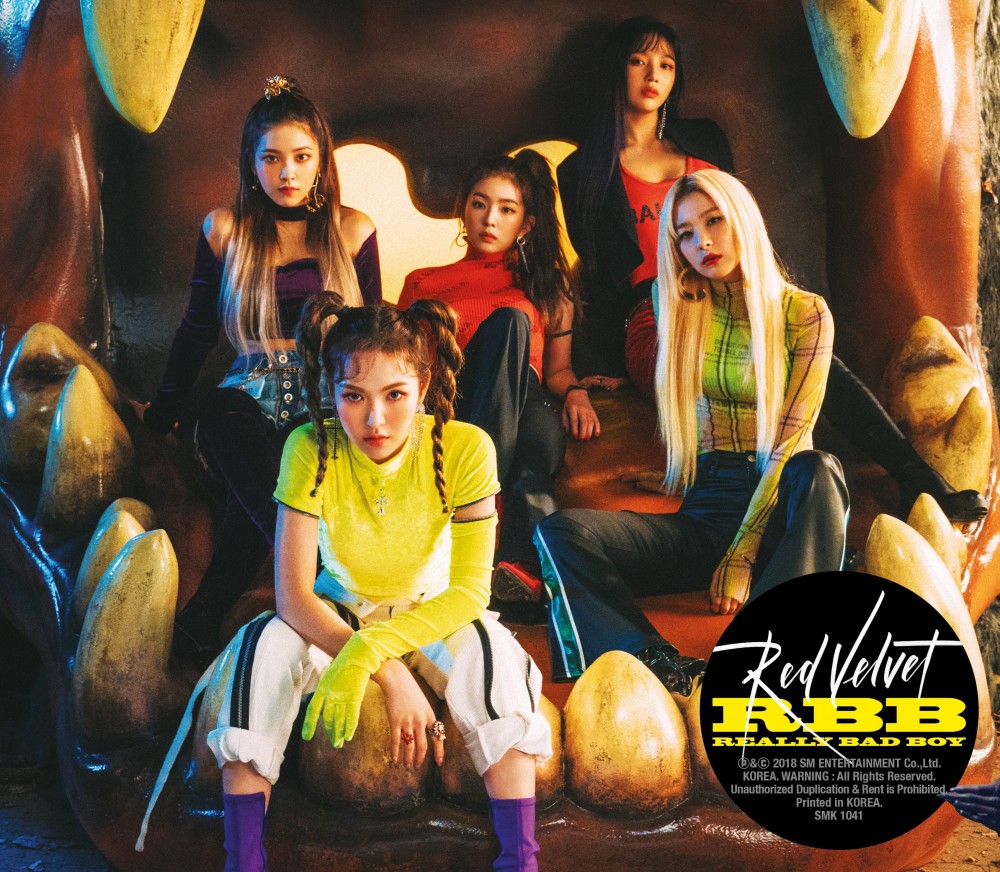 RED VELVET - 'RBB'
---


Track List:

1. RBB (Really Bad Boy)
2. Butterflies
3. So Good
4. Sassy Me
5. Taste
6. RBB (Really Bad Boy) (English Ver.)


As 2018 comes to a close, Red Velvet has ample reason to celebrate. Five of their music videos hit the 100 million view mark on YouTube recently (including "Russian Roulette," "Dumb Dumb," "Bad Boy," "Peek-A-Boo," and "Red Flavor"). Not only that, their newest release topped iTunes charts in 17 different areas across the globe: Greece, Sweden, Bulgaria, Costa Rica, Brunei, India, Indonesia, Singapore, Hong Kong, Taiwan, Thailand, Vietnam, Malaysia, Kazakhstan, Lebanon, Saudi Arabia, and the Philippines. With that in mind, how does their newest EP 'RBB' actually sound?
"RBB" is the title track, and Red Velvet definitely wanted to start things out with a bang. Repetitive hooks, horns, synths, and stratospheric vocals highlight this tune. Undeniably an exciting tune and undeniably staying on my playlist. Recalling their past work, "Butterflies" is a smooth R&B tune. It's slower and quieter than "RBB." Smooth and silky is what they do best, and this song is no exception. Unlike "RBB," it is Red Velvet in every way that counts (except for some autotune), but that's entirely forgivable. "So Good" has more of that signature R&B goodness. Thick, bold vocals and some seductive main verses, and I'm in heaven. We're three tunes in and not a dud in the bunch.


They decide to get playful on "Sassy Me," drenching the production in vocal fry. I like it, because it's a little different sound for the band, without getting overly cutesy (we already have that). You can almost see them grinning while doing this. It's a fun track, and it's so adorable. "Taste" is another more playful tune, but it is more conventional than "Sassy Me." All the pop elements are in place, it's upbeat and cheerful. And has some nods to their poppier hits, like "Ice Cream Cake." It's also an awesome bop. We also have the English version of "RBB." What does it sound like? A lot like the Korean version. The English isn't bad, but you can really tell that it's not their first language. In some ways, I think the Korean version worked better. The syllables fit better and it's just smoother.

So are we to make of all this? I think the other tunes are better than the title track. "RBB" isn't bad by a longshot but the smoothness and the such really helps bring out the girls' talents. The vocals are good on the title track but they're even better on cuts such as "Butterflies." The lead track has its own merits, being more properly a club-banger and not defaulting to "cute but stupid," as many title tracks have been in 2018. And yeah, every song on here is a bop worthy of the name Red Velvet.


MV REVIEW


This MV had the potential to be really dark, but they went for a fun version instead.

The girls are dancing (most of the time) in front of a graveyard. There's a beast stalking them to, a beast of fur and fangs resembling a wolf (I'm thinking it might be meant to be a werewolf). There are some obviously fake-looking wolf shots which make it even more fun. I'd rather see that than an actual wolf, ethically speaking.




The video, despite having some eerie things (such as a wolf leaving claw marks on a table, the lighting), is all for laughs. The girls' costumes are all very cute, rather than overtly sexy (they don't have to try hard to be hot). It's a brilliant mash-up of the scary and campy, and it works well here. Combine that with a great song and you have a winner, right?

Yeah. I wasn't sure when I sat down to watch it what I would see. And when I realized a lot of the campiness was intentionally I had a much better time. I'd rather see someone succeed that fail, and they've done that here. Amazing special effects? Not needed. Instead, make me smile for 3+ minutes and you've done your job.


Score

MV Relevance...........8
MV Production..........8
MV Concept...............8
MV SCORE: 8.0

Album Production.....9
Album Concept..........9
Tracklisting.................9
ALBUM SCORE: 9.0


OVERALL...................8.5