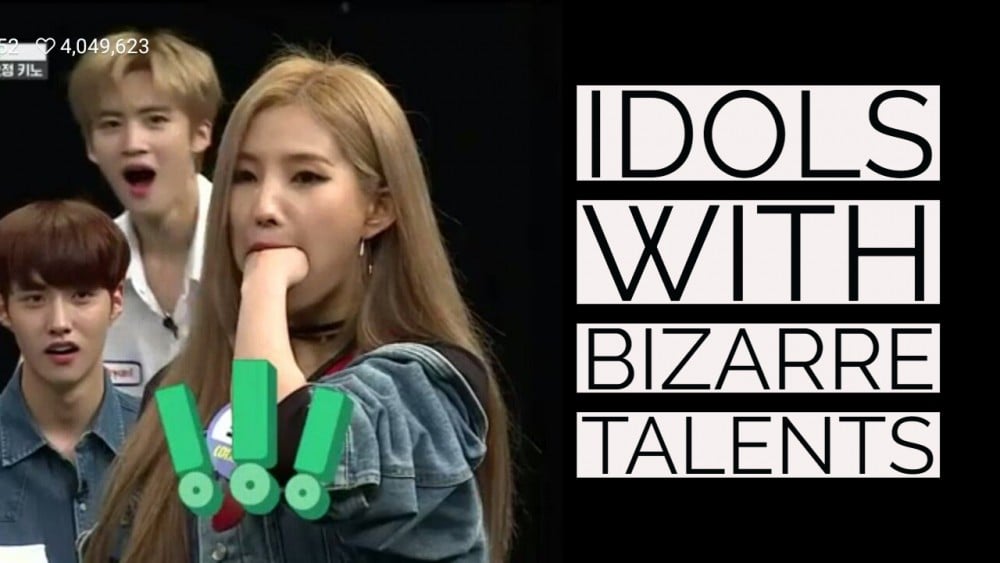 K-Pop idols are known to be incredibly talented in many ways. From singing to dancing to stage presence, they always know how to captivate their audience. Besides performing on stage, we also see our favorite idols on variety shows where they get to show off their unique and freaky talents. Here are some strange yet impressive skills K-Pop idols have.
1. Giraffe Jinsoul
At normal length, her neck is about 6 centimeters long, but somehow she's able to stretch her neck by a whole 3 centimeters!!! How is that even possible? Check it out here starting at 2:40.
2. Big Mouth Soyeon
No, I don't mean big mouth as in she talks too much, I mean she literally has a large mouth... check this video as proof.
3. Super Strength Jongho
An interesting talent to have, Jongho can sing heavenly while splitting fruits in half effortlessly. Where do his limits end?
4. Elastigirl Victoria
Flexibility is something that all female idols aspire to have but Victoria takes it to a whole new level. It's almost as if she's a rag doll being flexed around with almost no effort at all.

5. The Powerful Ttakbam Technique
Besides being famous for his singing and dancing skills, Onew is incredibly known for his impressive ttakbam. Don't try this at home.
6. Buns of Steel
How he came up with this skill, we may never know. But we will still remain incredibly impressed with his ability to break 28 pairs of chopsticks with his butt.
7. Eat Jin
Of all people, it's no surprise that food master Jin would have strange talents regarding food. Who else has the ability to open bags with their feet and at such speed too!
8. Foot Selfie?
Who would have thought this would become a useful talent. Maybe we should all practice it for a great picture.
9. Black Magic
Whether or not this talent is true you have to admit it could be interesting. Sakura can guess a person's blood type just by looking at them. Whether you believe it is within your control.
10. Dragon Boy Hyun Ho
How this is possible, it's unclear. But it is interesting to see actual smoke coming from his mouth as if he's a dragon ready to breathe fire. Check it at the 14-minute mark in the video below.