Ladies' Code
's "
I'm Fine Thank You
" is ranking #1 on several real-time music charts including
Melon
,
Bugs
,
Genie
,
Monkey3
, and
Olleh
.
Fans as well as netizens gathered to make the only wish of EunB happen come true, which was to rank #1 on a music chart.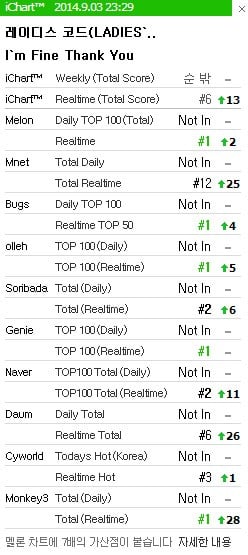 In addition, netizens have associated the lyrics to "I'm Fine Thank You" to the recent accident, giving more significance to the song. The lyrics state, "Today I cry, I wish you happiness forever, good bye," and "It's okay to smile thinking of me once in a while."
[UPDATE] On September 4, Polaris Entertainment acknowledged this kind gesture from fans by telling OSEN, "We saw the music chart. The workers and everyone saw it and gained strength. We are more grateful because even fans [from other fandoms] are coming forward to show support."