OMEGA X's CEO has allegedly made an update on Twitter.
On an online community forum, a netizen shared a screenshot of a Twitter post allegedly uploaded by the CEO of OMEGA X's company. As reported, a series of footage capturing the CEO's verbal and physical abuse of the members recently spread shock across the K-pop community.
Despite the official statements containing the agency's apology, netizens have remained suspicious of the CEO's claims and behaviors towards all employees.
In the Twitter post, the caption reads: "Fact. And evidence. You all have lies, but I have the truth. #Lies".
In the photos of the messenger screenshots, a respondent* repeatedly apologies to the CEO, who replies that they [the employee(s)] cannot be forgiven because "lying is an incurable illness." It is also written that people who "lie as if they are telling the truth" are "the kind of people" that the CEO "hates the most."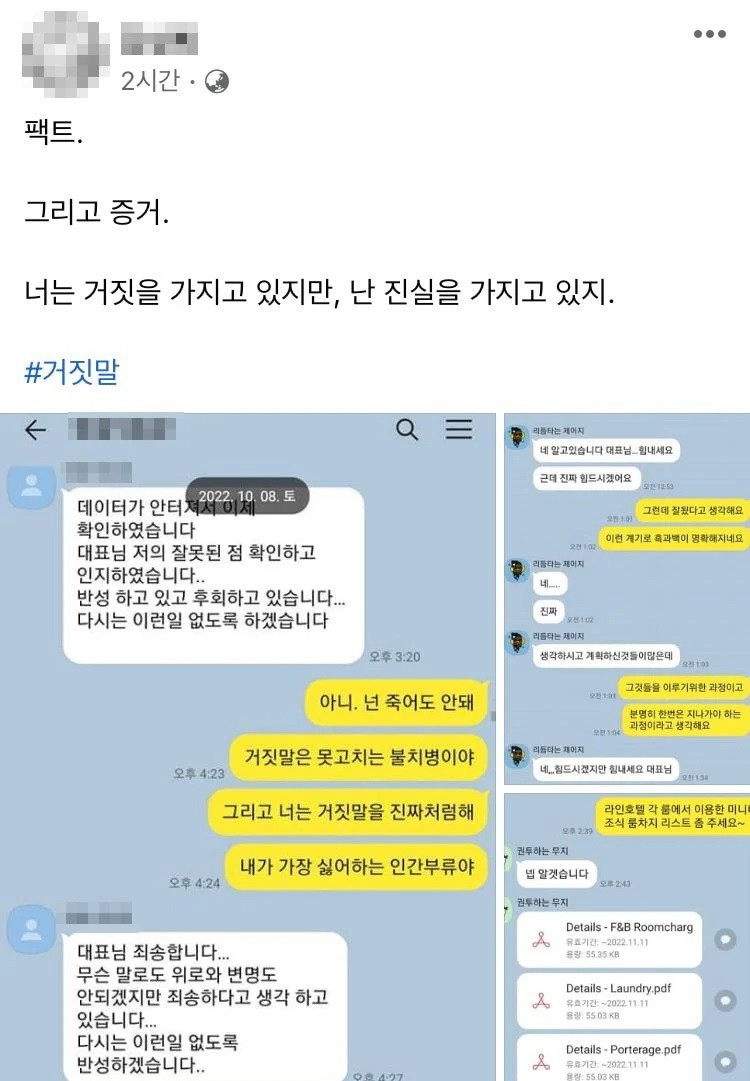 In the other screenshots, an anonymous respondent tells the CEO to "cheer up." The CEO replies: "But I think this is a good thing. Thanks to this opportunity, we are now able to distinguish what is black and white." The respondent writes, "Really. You have so much that you have thought out and planned." In the reply, the CEO writes, "These are just steps to accomplish those things. A step that we all must take."
Furthermore, the CEO shared a conversation with another respondent regarding the use of the minibar, the breakfast services, and other room services at the hotel.
In light of this Twitter post, netizens were puzzled and asked: "Where is the evidence?" Many could not believe that the CEO made the post herself, as it was believed that the woman CEO was the one behind these Tweets. Other reactions include:
"Isn't this basically gaslighting?"
"Is she giving evidence of her own gaslighting?"
"What is she even saying?"
"Is she saying that the reason why the boys were punished was because they were charging too much for room service?"
"I think maybe the room service one is referring to her using formal language, as she claimed to use with the members"
"I think she needs to step down"
"I can't believe a person like this is the CEO and running a business..."
"LOL the chat about getting support from one of the employees...is she just saying that she wants support and understanding?"
"I don't understand a single thing. This is ridiculous"
"From the way she chats with the employees, you can tell that she is abusive"

*The respondent's name has been blurred by the original poster on the forum as it was allegedly the employee's real name.