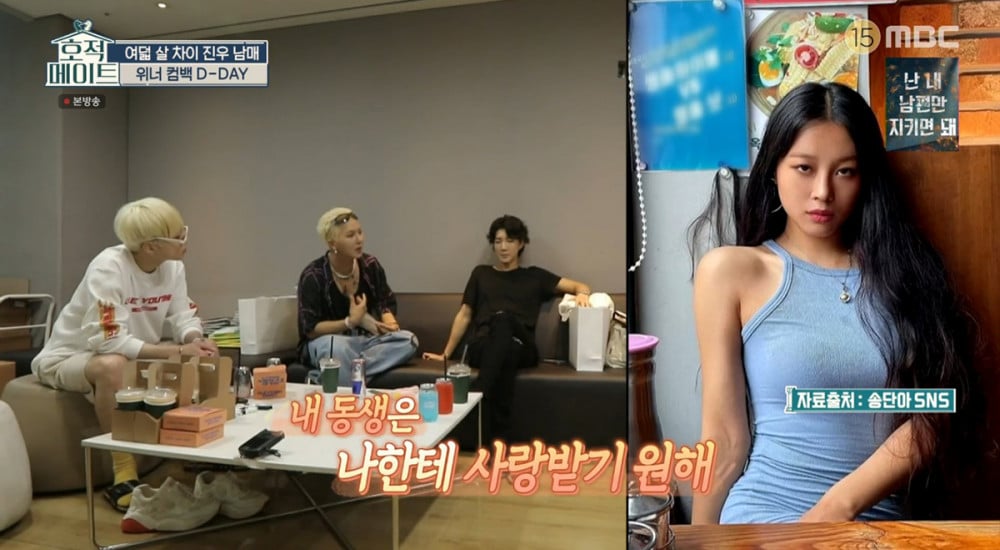 On the August 2 broadcast of MBC's 'DNA Mate', Kim Jin Woo's younger sister Kim Jin Hee visited the members of WINNER to congratulate them on their comeback.
Kim Jin Woo, who confessed that he felt awkward around his younger sister sometimes due to their 8-year age difference, revealed that they had grown closer thanks to the variety program. Lee Seung Hoon then commented, "Seeing you two getting closer like this, I feel like it would be good for Min Ho and Dan Ah to appear on this show too. Their sibling chemistry is no joke."
Then, the WINNER members decided to ask Jin Hee, "If you could switch your older brother to any WINNER member, who would you choose?". Jin Hee chose the only member who is an only child in the group, Kang Seung Yoon.
However, the WINNER members warned(?), "If Seung Yoon was your real brother, he would nag you all the time. He is only nice and kind to strangers (laughter)."
Kim Jin Woo then asked Jin Hee, "Do you prefer an older brother who nags you, or one who is more stoic?". Jin Hee said without hesitation, "A stoic one," pleasing Kim Jin Woo, whose usual style is stoic.
Hearing this, Song Min Ho chimed in with, "My sister likes it when I nag her. She is always craving my attention. She would feel upset if I didn't say much to her. One time, when I talked with her about an issue she was having, the next day my mom was like, 'Yesterday, Dan Ah told me she got good advice from you yesterday, and looked happy'."

Song Min Ho also added on, "When we were kids, we fought tooth and nail. When you're still growing, girls grow faster than boys, so she was stronger than me."
Meanwhile, Song Min Ho's younger sister Song Dan Ah debuted as a member of the girl group NEW.F.O in 2011.