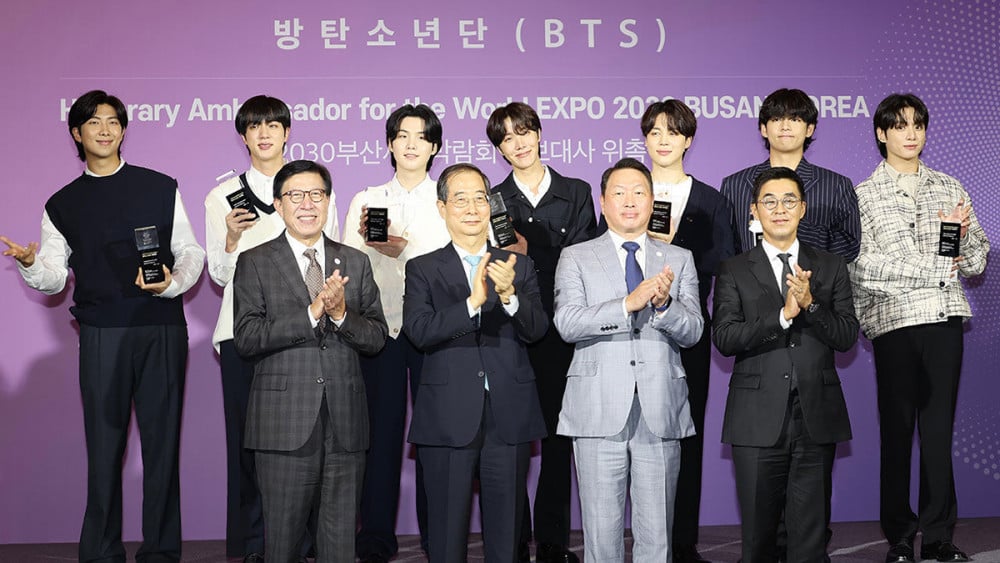 On August 18, the mayor of Busan city, Park Hyeong Joon, revealed that he has submitted a proposal to the presidential office to designate alternative service for BTS.
The mayor stated via his SNS, "It's come to my attention that unless the issue of mandatory military service for BTS is resolved, the group will be unable to fulfill their activities as ambassadors for the appointment of Busan as the city for the '2030 World Expo' in a practical manner."
In his proposal to president Yoon, mayor Park claimed, "The brand worth of South Korea that BTS created and built up cannot be gauged with mere numbers. If such a group were to roll up their sleeves and become directly involved in the challenge of having Busan appointed as the next city for the 'World Expo', this itself would amount to significant service to the nation, on par with mandatory military service."
The mayor continued, "In the past, notable figures in the arts or sports have been designated for alternative service. If BTS were to receive the designation, the group will serve this nation one hundred, one thousand times more for this single favor."

Mayor Park also emphasized, "Designating alternative service for BTS is by no means giving the members preferential treatment. If the members of BTS are designated for alternative service, they are simultaneously being given great responsibility to the nation. They will be required to provide service to the nation by achieving feats which only they can achieve."
Finally, Park Hyeong Joon said, "Making the '2030 Busan World Expo' possible is not only Busan's, but South Korea's desperate assignment."
Meanwhile, alternative service refers to an exemption from mandatory military service if individuals designated as alternative service candidates fulfill a required amount of service hours (community service, etc) in a given time frame. Soccer player Son Heung Min previously fulfilled 544 hours of community service for his designated alternative service, while continuing to play for the Tottenham Hotspur.