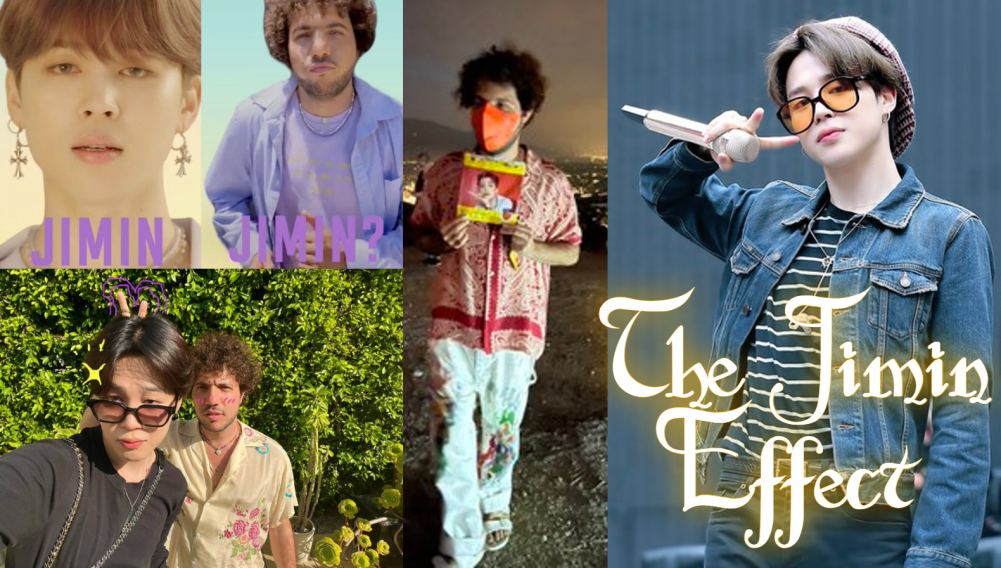 'Bad Decisions,' a collaboration single by Benny Blanco, Snoop Dog, and BTS's vocal line members, was released on August 5, and Jimin stood out with his honey vocals even though he had the least lines out of everyone on the track. Fans were absolutely blown away by his refreshing vocal technique and colorful vocal tone and range, not forgetting his sexy English pronunciation that just seems to be getting better and better with time. As such, he took over worldwide trends after the song's release as fans showered him with praises and gushed over his performance on the track.
However, on the topic of this 'Bad Decisions' single, Jimin has not only stood out for his enthralling performance but also for being a favorite to Benny Blanco. The American record producer has been posting a series of videos and photos of Jimin or featuring Jimin on his social media accounts, including TikTok, Instagram, and Twitter. It has become evident that he is no exception to 'the Jimin effect' either, and he is under Jimin's charm.
His affection for Jimin saw him start posting or referencing Jimin right from the song's teaser, where he dressed up like Jimin, as seen in BTS' 'Dynamite' music video. This has continued all through his social media posts promoting the single. Jimin has responded to some of the posts, and the interaction between the two artists has caused major excitement among fans, causing Jimin to trend worldwide. Below are the different instances, from the latest posts to the very first post that was a teaser for the music video.
As part of the song's promotion, Benny also had a Q&A session on Twitter using the hashtag #AskBenny. One fan asked him what BTS video he first watched on YouTube, to which he responded with 'Blood Sweat and Tears' and further added that he was hooked the second he turned it on.
Following his response, fans started making comments that they now understand why he seems to be so charmed by Jimin. It is widely known that Jimin's opening of the 'Blood Sweat and Tears' music video, both visually and vocally, was and continues to be the part that captivates fans and new viewers the most. Many fans within the fandom confess to having been attracted to BTS and to the BTS fandom because of Jimin during the 'BS&T' era. Jimin received much praise during this era, with K-media even calling him 'the master of opening' for the much attention he got and, in effect, brought to the song and the group.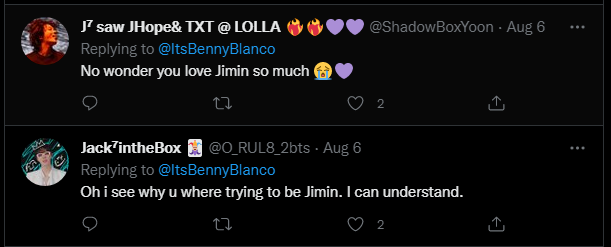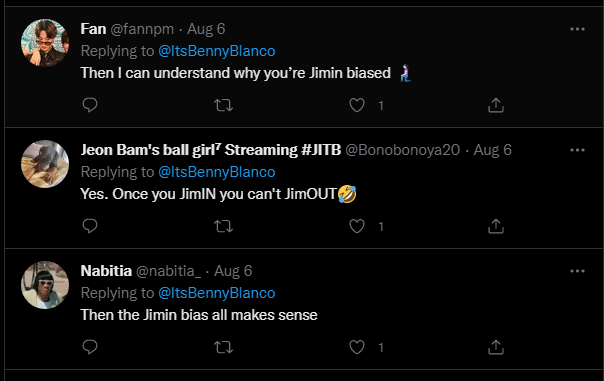 Fans have also noticed that Benny is now following Jimin on Instagram!
Meanwhile, International and South Korean media outlets like Billboard News and SBS News have both used Jimin's part of the song and also mentioned him specifically in news reports on the new release, showing Jimin's star power yet again.
Fans love the ever-evolving vocal style by Jimin, and they enjoy the interactions between Jimin and other artists, driving up anticipation for his solo work.