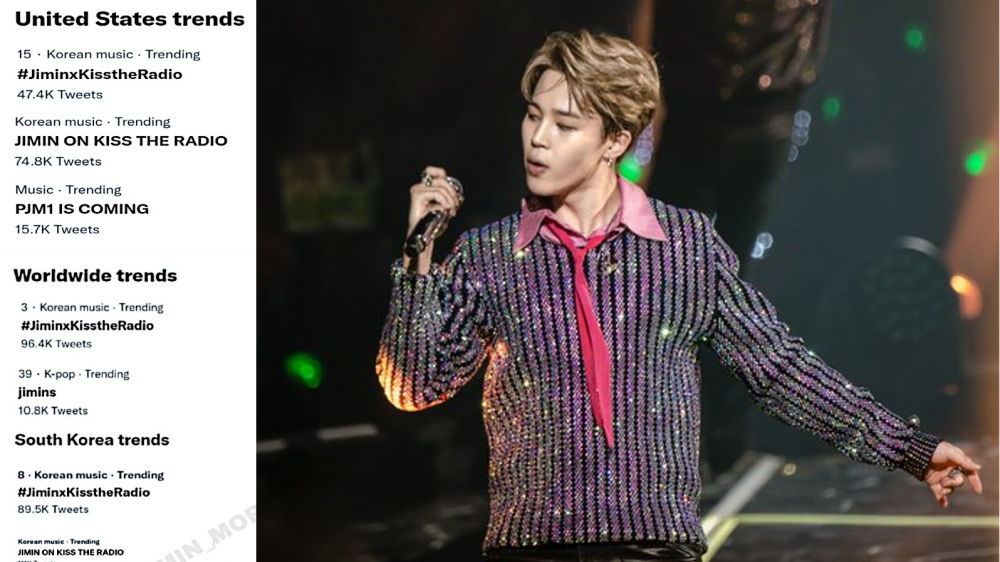 Jimin and Ha Sungwoon's 'With You' has been a hot topic ever since its release for how beautifully executed the song is and how well the two vocalists complement each other. It is catchy and soothing at the same time, which made many listeners fall in love with the song, and it attracted a wide range of audiences. Consequently, the song's popularity prompted it to set numerous records on various major music platforms like Spotify, iTunes, Apple Music, Melon, and Shazam, among others and has continued to do so till now.
However, Jimin has never officially spoken about the song ever since its release. This changed on July 21 when media reports revealed that he was scheduled to make a guest appearance on a radio show through a phone call on the same day. He would be on KBS Cool FM 'BTOB Kiss the Radio' show, where Ha Sungwoon was going to be a guest on the show, and he would make a phone call to Jimin to ask him about how he has been doing recently and how he feels about them working together on the OST 'With You.' This piece of news excited fans very much, and they could not wait to listen to the conversation, all getting ready to tune in.
Fans took note of everything that was said about 'With You,' such as the fact that both artists liked the song when they heard it for the first time and that it was absolutely to their taste. Sungwoon also mentioned that they recorded the song separately, but they monitored each other's recordings and focused on each and every detail and therefore had fun during the entire process.
When Jimin finally came onto the show, the show's host had prepared a game in which Sungwoon had a mission to call a friend to whom he would ask some questions, and any wrong answers would lead to punishment for Sungwoon. He opted to call Jimin because he said Jimin knows him best.
However, Jimin purposely got the questions wrong intending to make sure that Sungwoon gets the punishment, which would be to do a sexy dance to a cute song. He said that he was sure Sungwoon's fans would want to see that.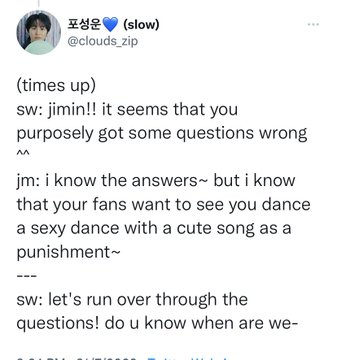 Fans were very entertained with how Jimin carried himself on the show and praised his charisma that made the show fun, as well as his kind nature and his polite manner of communication no matter whom he speaks to.
They were also greatly endeared by the friendship between Jimin and Sungwoon, seeing how Sungwoon kept saying that Jimin is warm-hearted and kind to him and gives him a lot of career advice. He also praised Jimin for being very hardworking and for being a source of inspiration for him and talked about the touching moments in their friendship, such as when Jimin brought him a cake and gifts to his house for his birthday.
On hearing all this, fans said that anyone who would have Jimin as a friend would be the luckiest person.
Jimin also mentioned that he has been working on his solo music in response to the question of what he has been up to recently, something that excited fans even more.
As fans kept on talking about Jimin's appearance on the show, multiple tags and keywords entered Twitter trends in countries like South Korea and the US. #JiminxKisstheRadio peaked at #8 in South Korea, #15 in the US, and #3 on the Worldwide trends list. Other trends included JIMIN ON KISS THE RADIO, Jimins, HES SO CUTE, and PJM1 IS COMING.
'Orange Hair' also became a trending topic in South Korea because of one of the questions that Sungwoon asked Jimin regarding one of the first videos that Jimin showed him because of the high number of views. Sungwoon gave the clue of 'orange hair,' and immediately, everyone knew what video it was.
Fans brought back the 'Perfect man' Jimin fancam where he had orange hair and reminisced how he went viral and became known as the 'legendary orange haired guy.' BTS even started getting more attention after covering this song, thanks to Jimin's visuals and powerful performance!
Fans are now looking forward even more to Jimin's solo debut album after all the excitement from today's radio show.