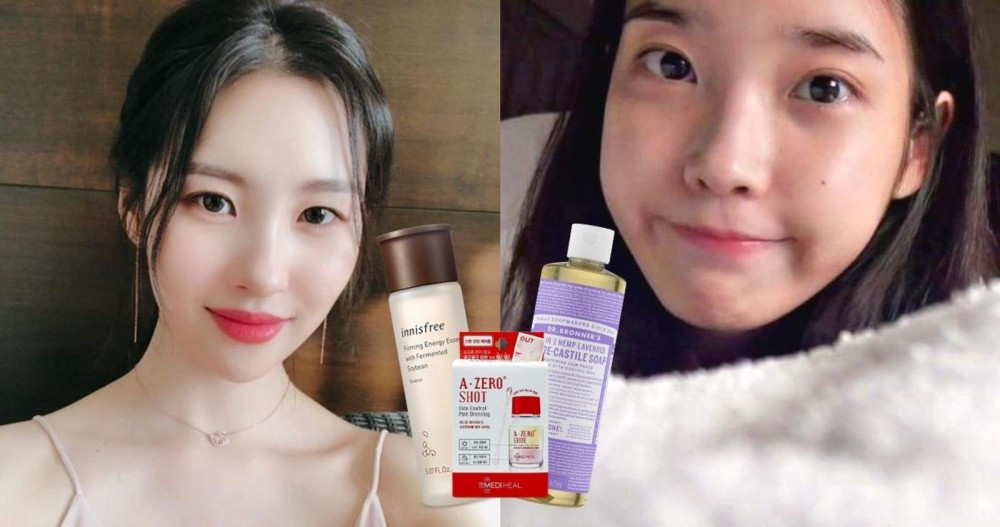 Without a doubt, K-celebrities are highly known for their flawless and poreless glassy skin, and it's because of their intense skincare regime! Aside from sunscreen, here are eight skincare essentials recommendations from your favorite stars to help you achieve perfect skin!
1. Shiseido Senka All Clear Oil: Many say that the most essential step to getting that flawless skin isn't how many products one uses, but it all begins with how well you cleanse your skin first! Somi recommends using Shiseido's Senka All Clear Oil. This cleanser contains rice bran oil as the main ingredient; this cleanser helps remove dirt and other residues within the pores. Not only that, this is one of the skincare products that are relatively on the more affordable side, which is always a plus!
2. Dr Jart+ Dermask Micro Jet Clearing Solution: Featured on Girls' Generation Tiffany's tour bus travel skincare regime, the pop star was seen handing these masks out to fellow staff members. After all, hydration is the key to maintaining that youthful and plump skin! This sheet mask is noted to be an ultra-fine microfiber sheet mask that helps combat breakouts and reduce the appearance of scars and uneven skin tone.

3. L'Oreal Paris Men Expert Hydra Power: Among his extensive list of pretty pricey skincare products, one snagged the attention of many, especially for the price! GOT7's Jackson was seen using L'Oreal's Men Expert Hydra Power which is known to be a refreshing moisturizer that provides 48 hours of hydration with all-day comfort and a non-greasy and non-sticky finish!

4. Fresh Black Tea Kombucha Facial Treatment Essence: Featured on Eric Nam's nighttime skincare routine, we cannot deny everyone is always so shocked at how young Eric Nam appears versus his actual age, and it's no surprise because he takes care of his skin so well! Just look at that technique!

5. Zeroid Pimprove Cream: If anyone is known to be confident in their own natural skin, breakouts and all, it's most definitely BTS' V, and just like any other person who gets breakouts making sure that it doesn't scar over is always vital! Fans were able to spot the fellow star using Zeroid's Pimprove Cream, which is perfect for those who have sensitive skin as this product is labeled as a hypo-allergenic product.

6. HERA Lip Gloss in Sensual Spicy Nude: Aside from the fact that BLACKPINK Jennie is the model for HERA, many beauty influencers as well have stated that HERA's lip glosses are one of the most hydrating and plumping lip glosses on the market. BLACKPINK Jennie is also seen donning the color sensual spicy nude very often in her vlogs and other appearances!

7. Mediheal AirGuard Foilab Mask: Known to love sheet masks, this is probably one of the most iconic sheet masks around after BTS' Suga was seen donning a silver mask. On top of that as well, BTS' Suga is known to have such youthful and glowing skin too and no wonder since he does take care of his skin so well!

8. Water and Good Sleep: Hydration on the outside is not the only important aspect when it comes to skincare, but to really achieve flawless skin, it begins with what's on the inside! Mentioning how he struggled with his skin BTS' Jungkook shared that the best remedy for perfect skin is water and good sleep!

What skin care tips do you have, or what are some skincare products you've tried that were recommended by your favorite stars?