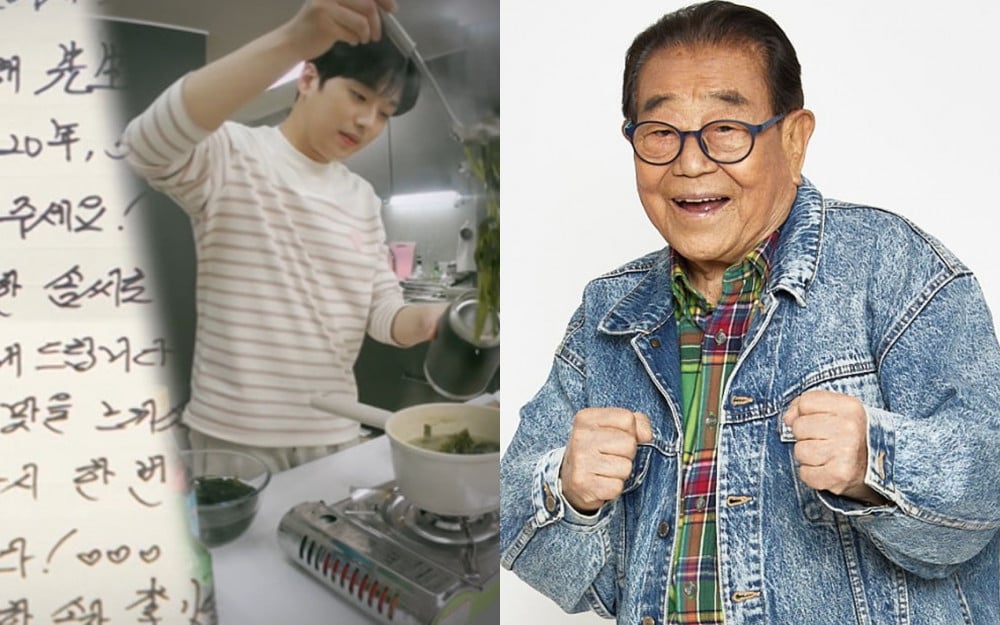 Trot singer Lee Chan Won expressed his admiration and love for the late MC Song Hae.
In the new episode of the KBS 2TV's entertainment show 'Stars' Top Recipe at Fun-Staurant' that aired on June 17, Lee Chan Won was seen cooking a special meal for the late MC Song Hae.
In the latest episode, Lee Chan Won cooked seaweed soup using a beef bone broth that was cooked for 16 hours. The meal he was preparing was for MC Song Hae for his birthday and was recorded in April.
Lee Chan Won shared, "It is MC Song Hae's birthday. I love and admire him so much. He watched over me since I was in elementary school, middle school, and high school until I became a singer now. When I met Song Hae Sunsaengnim 15 years ago when I was in 6th grade of elementary school. He was already 82 years old when I first met him. Even at his age back then, he met with all the contestants and interviewed them himself. He even wrote the script himself."
Lee Chan Won sang "Jintobaegi" at the 'National Singing Contest' when he appeared on the show again when he was in high school and also sang a duet with Song Hae. Lee Chan Won explained, "I cannot forget that moment when I sang a duet with him. I felt really happy."


Then, Lee Chan Won won the grand prize in 'The National Singing Contest' when he was in college when he appeared on the show for the fourth time. At the time, Song Hae gave him the greatest and most unforgettable compliment. Then, Lee Chan Won was able to sing in front of Song Hae again on the show 'Immortal Song' after becoming a singer.
When asked what Song Hae means to him, Lee Chan Won replied, "He's my grandfather." The two have been continuing their relationship for fifteen years, and Song Hae was able to watch Lee Chan Won grow up.
Lee Chan Won also made a thick soybean paste stew using the homemade soybean paste he made a month ago and dried cabbages. Lee Chan Won explained, "Song Hae Sunsaengnim really likes the dried cabbages that he goes to restaurants specializing in dried cabbage stews." According to the singer, the thick soybean paste stew with dried cabbages is also a specialty of Song Hae's hometown. Therefore, he prepared the dish hoping the MC could reminisce about his hometown cooking.



Lee Chan Won also hand-made dumplings for the MC and prepared a full meal consisting of beef-broth seaweed soup, soybean paste stew with dried cabbages, and hand-made dumplings. Lee Chan Won also wrote a handwritten letter expressing his love and admiration for the late MC.
The trot singer explained, "It seems like yesterday that you told me my name means 'Shine brilliantly without regret' when I was in elementary school. Thanks to your kind words I grew up well and am diligently promoting as a singer."
He continued to write, "Although my cooking might be lacking, I prepared a few dishes for your birthday. I really hope that you can enjoy the meal and have a taste of your hometown."
Many viewers were brought to tears while watching this latest episode as MC Song Hae passed away two months after receiving the birthday meal from Lee Chan Won. The production team dedicated this episode to the late MC, saying, "Thank you for bringing laughter and joy to the entire nation every Sunday. You are the one who shared unconditional love with everyone. Thank you for your smile, the whole nation of Korea was happy. We will never forget the great love you gave everyone. You will forever be remembered as the national MC."