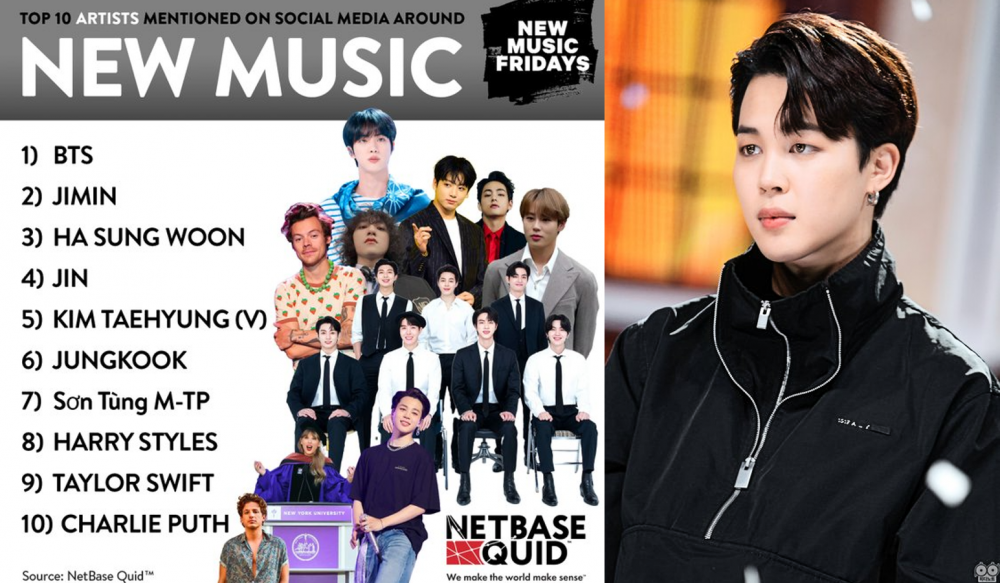 Jimin has exhaustively demonstrated his power and influence as an individual artist with his latest release, 'With You,' a duet with Ha Sungwoon. It is his first-ever official project outside of his group BTS, but he has achieved numerous records and recorded impressive achievements in different aspects and on different music platforms ever since the release of the song roughly two months ago.
A report by Netbase Quid, published on June 24th, which considers data from consumer behavior and market intelligence, has revealed that Jimin was the most mentioned solo artist on social media platforms around the world in June, ranking higher than world-class superstars like Harry Styles and Taylor Swift. Overall, he was the second most mentioned artist, only behind his group BTS.
This becomes his second consecutive month at the top spot as the most mentioned individual artist on social media platforms globally, having also ranked first in the month of May ahead of big names in the global music industry like Harry Styles and Taylor Swift, among others.
This revelation tallies with the activity seen on the different social media platforms, particularly on Twitter, Instagram, and TikTok, which are arguably the top most used social media platforms in different countries.
For instance, 'With You' ranked 3rd on Billboard's Hot Trending Songs chart for the chart dated June 25th. This chart is powered by Twitter, and it shows the songs that are most talked about on the platform. 'With You' has now been on this chart for eight consecutive total weeks, having made its debut on the chart at #2 with only four days and 10 hours of tracking, after which it rose to the #1 spot and maintained it for the next five consecutive weeks, then ranked 2nd the next week and now 3rd for this week. As people talk about the song, Jimin's name comes up as well, and it explains his high mention rate.
On Instagram, Jimin continues to attract new followers each day and has now surpassed 37 million followers on his individual account as of June 23.
Some of the new followers could be due to the many videos/reels on the platform that are using the 'With You' official sound, such that many are discovering his amazing vocals and gaining interest in him. The song's official sound is widely popular on the platform as there are numerous videos/reels using it as background music. In fact, it is the most used official sound by a BTS member on the platform in 2022. As of June 23, the song's sound has now been used in more than 101k reels, which have accumulated more than 30 million views on aggregate so far. As more of these videos are posted, Jimin's mention rate on the platform also increases.
TikTok is no exception to the Jimin fever. As of June 20, Jimin's individual hashtag, #JIMIN, surpassed 106 Billion views, making him the second most-viewed individual on the platform!
His massive popularity on the platform, holding the record as the world's most mentioned person on the platform, has also prompted numerous video uploads to do with his music. As of June 23rd, there were more than 152,500 videos uploaded to the platform using 'With You' official audio. The audio sound now has more than 115 million cumulative views with close to 30 million likes.
Videos uploaded with hashtags to do with this latest music release, such as #jiminost, #ourbluesjiminost, and #withyoujimin, have accumulated millions of views and the view count keeps increasing rapidly. So far, the hashtags each have over 27 million views, over 18 million views, and over 22 million views, respectively.

Even though the OST had no promotions, Jimin has managed to stand out in every way imaginable, and fans cannot wait to see what type of impact he will have when he releases his first fully promoted album.
Congratulations Jimin!