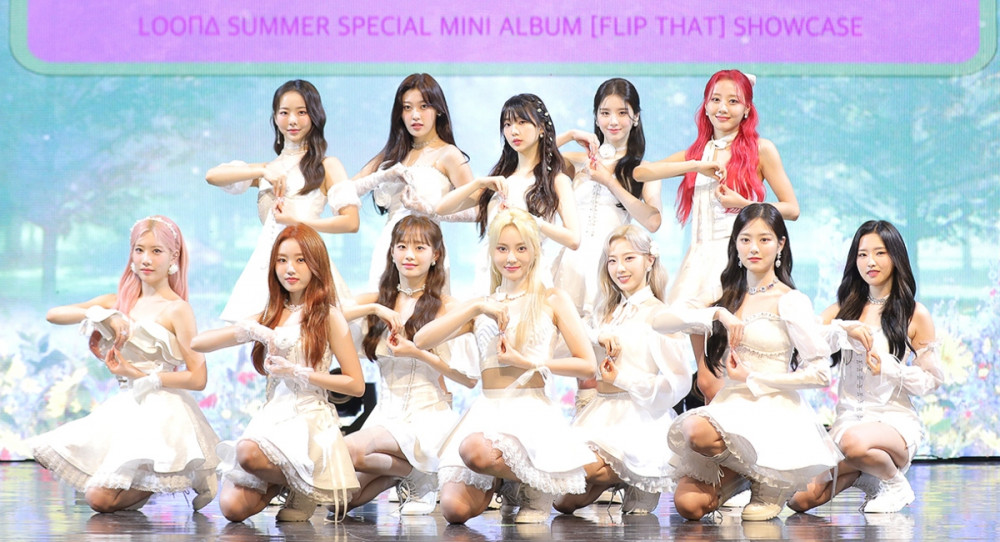 LOONA has returned with their first summer song!
On June 20 KST, the girl group released their special summer mini album 'FL!P THAT,' featuring six new songs including the titular single and coming roughly one year after their fourth mini-album '&.' To commemorate the comeback, Blockberry Creative hosted a media showcase at Seoul's COEX Auditorium. Allkpop was among the outlets attending the event, allowing us to get the exclusive scoop on LOONA's new release and upcoming promotional activities.
The members kicked off the event by reacting to the arrival of their comeback day. "It's been a year since our last comeback," Heejin explained. "It's been a long time, so we're both excited and nervous. We prepared for this a lot, as it's the first time we've put out a summer-focused album, so please give it your interest and anticipation."
Since their debut as a full group in 2019, LOONA has shown unrelenting momentum by outdoing record performance with each album. The event's host, MC Haru, predicted that the new album would prove to be an even bigger success after LOONA's participation in Mnet's 'Queendom 2,' where they finished as first runner-ups.
"Thanks to everyone who has been congratulating us," Choerry commented. "We wanted to show a new side to us through our time on 'Queendom 2,' so we put in a lot of effort. We won't forget the experience, passion, and determination we felt during 'Queendom 2,' and we'll work to show you all even more impressive performances."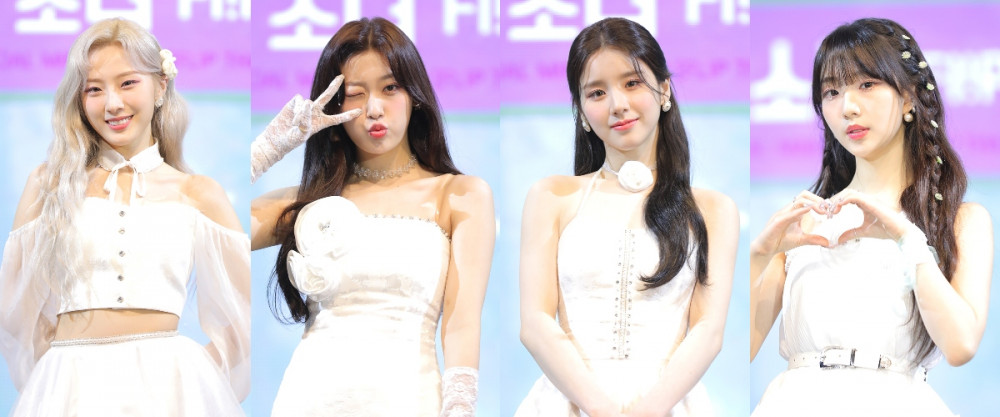 The members also added that their experience on the television program helped to restore their confidence as performers. They recalled a time when LOONA had gone on a long break and were seldom in the practice room – a time where they felt a lot of discouragement. However, while preparing for 'Queendom 2' performances came with a lot of anxiety, the recognition they received from the public while participating helped them regain confidence and motivate them to move forward with their future goals. They expressed hope that they could convey that new burst of confidence through this comeback.
While the dynamic sound of LOONA's 'Queendom 2' finale single "POSE" is featured on the new album, the main theme of 'FL!P THAT' as an album is travel, particularly breaking away from ordinary daily life to enjoy a freeing summer trip. As previously mentioned, the fact 'FL!P THAT' is a summer album was an exciting change for the group's members, as the only seasonal music they had previously put out was related to winter or the Christmas holiday season.
"This is the first time we're putting out a summer special album. Compared to our previous albums, the one has more of a 'pretty' charm to remind you of a refreshing summer," Chuu described. "I'm really looking forward to what kind of reaction our first summer album will get."
"Since our debut, we've been working to show that we can do a number of different concepts," Kim Lip added. "While we've been putting out more of an intense energy recently, we thought this could be an album where we show a more refreshing and bright energy that's perfect for summer."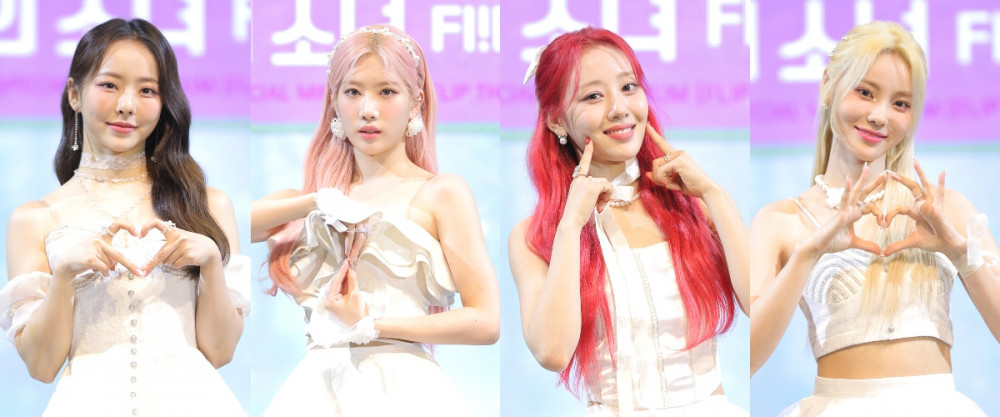 Title song "FL!P THAT" is a U.K. house-centered pop track with LOONA's signature energy and a message encouraging listeners to "flip the world upside down." The song is rounded out by a fresh synth sound and background flute melody, as well as an addictive "Flip that / that that that / that that that" hook.
"The weather's starting to get pretty hot, right?" Yves responded when asked about the 'strong point' of the single. "While you're listening to LOONA's 'FL!P THAT,' we hope we're able to change your mood and make you feel like you're going on that trip you've been too busy to go on. I'd also love it if people enjoyed the song's addictive hook too."
As for the song's point choreography, Yves assured that it would be impressive, stating, "There might be people worried that there won't be any sharp synchronized dancing because the mood [of the single] is so bright, but all 12 of us practiced sharp choreography as if we were just one person. I feel like you'll be able to see the varied personal charms of all 12 of us."
When asked about their goal for this round of promotions, Heejin responded, "As we're coming back with a summer song for the first time, our goals are also pretty diverse. One of our goals is for the public to enjoy the song and see it on music charts. We also want to try for a music show #1." She also added that LOONA would love to be "in charge of summer" this year.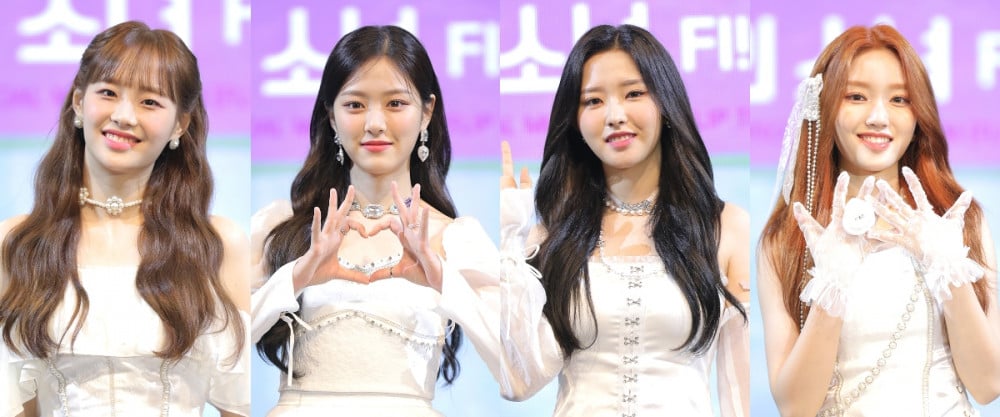 Another major topic of the event was the group's upcoming 'LOONATHEWORLD' world tour, something the members had previously hinted would happen in 2020; however, it was delayed to this year due to the COVID-19 pandemic. The tour will kick off in August, with confirmed North American tour stops including Los Angeles, San Francisco, Denver, Kansas City, Chicago, Louisville, Reading, Washington DC, and New York.
When asked how they feel about finally being able to go on the tour, Kim Lip responded, "We wanted to be able to meet our overseas fans as soon as we could as they've given us a lot of love. We're grateful that the news of our first overseas tour received such a warm reaction. I think we'll do a good job showing them LOONA's charm."
As solo activities will be preventing Chuu from participating in the tour, she took a moment to comment on the circumstance and share her heart with fans. "It's a shame that I won't be together with everyone on our first overseas tour. I'm sorry. We tried to make it so I'd be able to attend at least a part of it, but because of my schedule, it was decided I'd need to be fully absent from it," she explained. "I'll work hard to show the fans who love us a pretty side during the 'FL!P THAT' performances."
Meanwhile, 'FL!P THAT' was officially released on June 20 at 6 PM KST. Within the first 24 hours of the album's release, LOONA was not only able to smash their first-day sales record but landed the #1 spot on the worldwide iTunes album chart and regional iTunes Top Album charts in a total of 31 countries, including Brazil, Finland, Malaysia, Mexico, the Philippines, Singapore, Thailand, and the United States.
Fans can check out the music video for title track "FL!P THAT" and more event photos below: