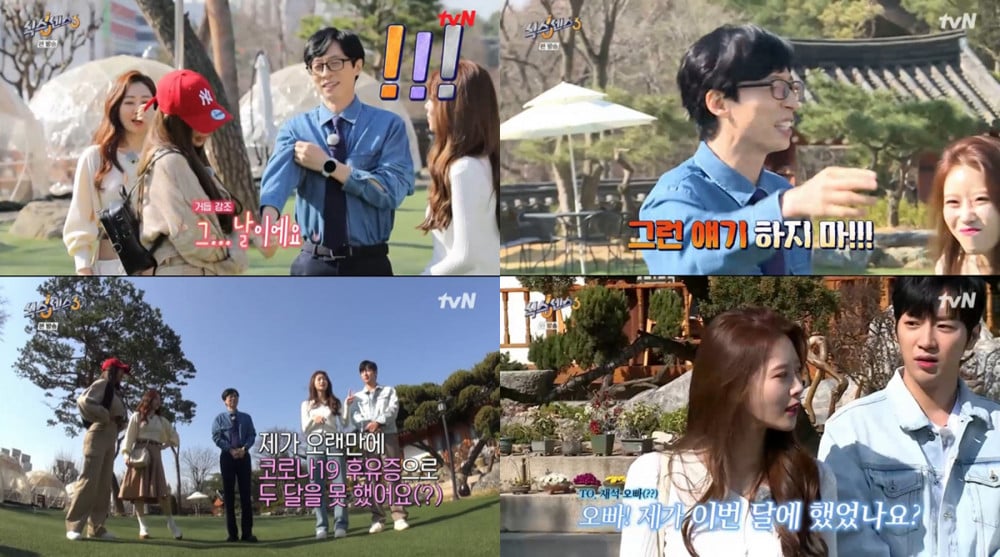 On the April 22 broadcast of tvN's 'Six Sense 3', Yoo Jae Suk threw up his hands in defeat once again, when cast members Oh Na Ra, Jessi, and Lee Mi Joo began openly discussing their period during the show's opening.
On this day, Yoo Jae Suk pointed out that Jessi had brought a backpack with her, which was unlike her. He poked fun by asking, "Are you going to school or something?", to which Jessi replied, "No, it's just that it's that time of the month."
Here, Lee Mi Joo jumped in by stating, "Okay, nobody get on [Jessi's] nerves today. It's that time of the month." Oh Na Ra also joined in on the discussion, asking, "Who had it last week?". Yoo Jae Suk, caught up in the middle of the conversation, laughed and remarked, "Okay, that's fine. You guys are just treating me like I'm your brother or something, and sure, I'm fine with that by now."
However, when Lee Mi Joo continued by blurting out, "But I actually didn't have it for two months because of COVID-19 side effects," Yoo Jae Suk became flustered and said, "Mi Joo, can you not talk about that. This is a TV broadcast."
Lee Mi Joo, unbothered by Yoo Jae Suk's request, even revealed, "That was when I asked [Jae Suk] oppa, 'Oppa, did I have my period this month?'." Yoo Jae Suk couldn't help but respond to this with, "I'm already worn out, and it's just the opening," causing laughter.

Meanwhile, the April 22 broadcast of 'Six Sense 3' featured guests Kwon Il Yong and On Joo Wan.