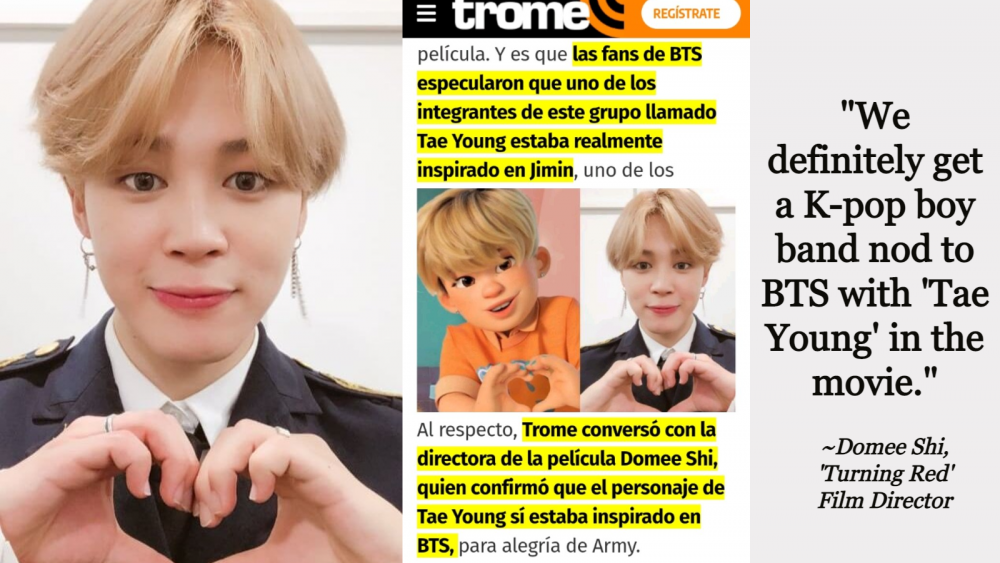 Slightly over a week ago, Jimin took over social media after fans saw clips from Pixar's new film 'Turning Red' and immediately started pointing out the overwhelming number of similarities between Jimin and 'Taeyoung,' one of the characters in the movie. Mainly, they nitpicked little details such as Jimin's mannerisms of caring for birds and other animals, his crooked tooth, the way he moves, how he poses for photos, his kindness, and his overall look from the hair to the faces he makes. Fans posted videos and images of Jimin side by side with those of the 'Taeyoung' character on Twitter and TikTok for comparison, and everything seemed to be perfectly aligned with Jimin as they know him, which made them completely convinced that the character was definitely inspired by Jimin [read about this here].
Just as they had thought, the film's director, Domee Shi, has now confirmed that the character was indeed inspired by BTS in an interview as reported by Peruvian media 'Trome'.
In the interview, Domee Shi says that the film does derive inspiration from boybands all through history and adds that "we definitely get a K-pop boyband nod to BTS with Taeyoung in the movie."

For fans, this confirmation that Taeyoung was indeed a character inspired by BTS cleared any doubt that Taeyoung is definitely a Jimin-inspired character. All his mannerisms and looks pointed to Jimin, and now that the character has directly been linked to BTS, it could not be anyone else but Jimin. For example, fans pointed out that details such as the character's crooked tooth or care for birds were obvious clues to whom in BTS he was.
Here is how fans reacted to this confirmation news.
Jimin continues to inspire various creations around the world, and there is no denying his impact. His first ever self-written, composed, and produced song 'Friends' was included as an OST in one of last year's highly anticipated movie releases 'Eternals' and now the film director of Pixar's new movie 'Turning Red' confirms that one of the characters was inspired by him. Having been involved in movie releases by some of the biggest and top-grossing film production companies globally, namely Marvel Studios and Walt Disney, fans are excited to see just how far Jimin will venture into Hollywood with his ever-growing popularity.