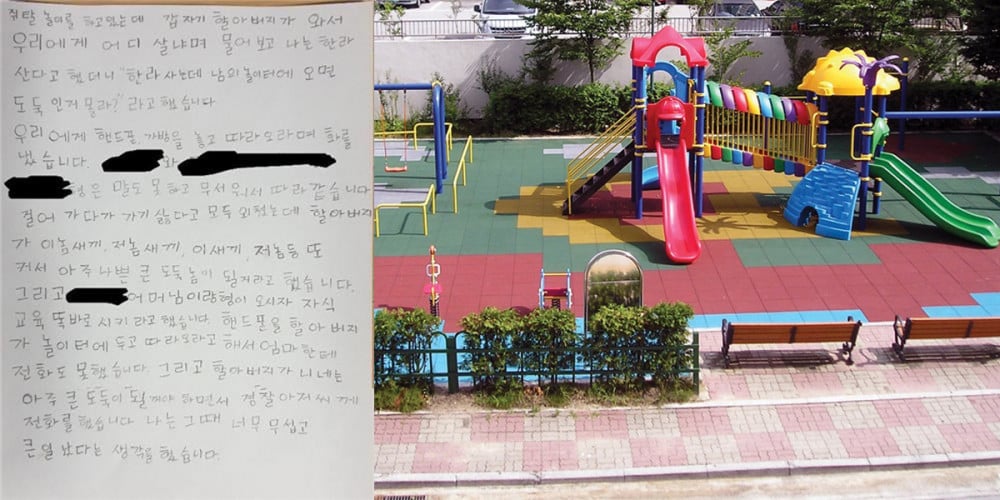 A Blue House petition filed on November 9 has become a topic of controversy on various online communities.

The petition in question was filed by a user believed to be the parent of a child who was recently apprehended by police for playing on a "private" playground.
The petition read, "Our children were caught by a resident association president for playing on a playground."
The petition filer continued, "Some time ago, the children were caught and taken in by a president of an apartment complex resident association while playing on a playground located inside the complex in Youngjong-do, Incheon. Our child's curfew is usually 6:30 PM, but on that day they did not return home, and did not answer the phone when I called two times. Around 7:09 PM, I got a call from the police."
Furthermore, "The police asked me to come by because someone claimed that my child damaged property. I hurried to the site, and when I arrived, I saw that [the association president] had my child and four others sitting in the apartment complex security room. The [association president] had asked each child on the playground if they lived there, and called the police on only the children who did not live in the complex. When the police checked the CCTV footage, there was no sign that the children damaged any property. However, the [association president] continued to claim that children who did not live in the complex could not trespass on the playground," the petition read.
The petition also included a journal entry written by a child. The entry read, "We were playing on the playground, but then a grandpa came and asked us where we lived. I said, 'I live in XX,' and he said, 'Don't you know that if you come to somebody else's playground when you live all the way over in 'XX', you're a thief?'."
The petition filer even added on that while rounding up the children, the association president forced them to leave all of their belongings on the playground, which was why the children's parents were not able to reach them. The filer then stated that several of the parents have decided to file a lawsuit against the association president; however, a detective informed them that it would be difficult to press charges.