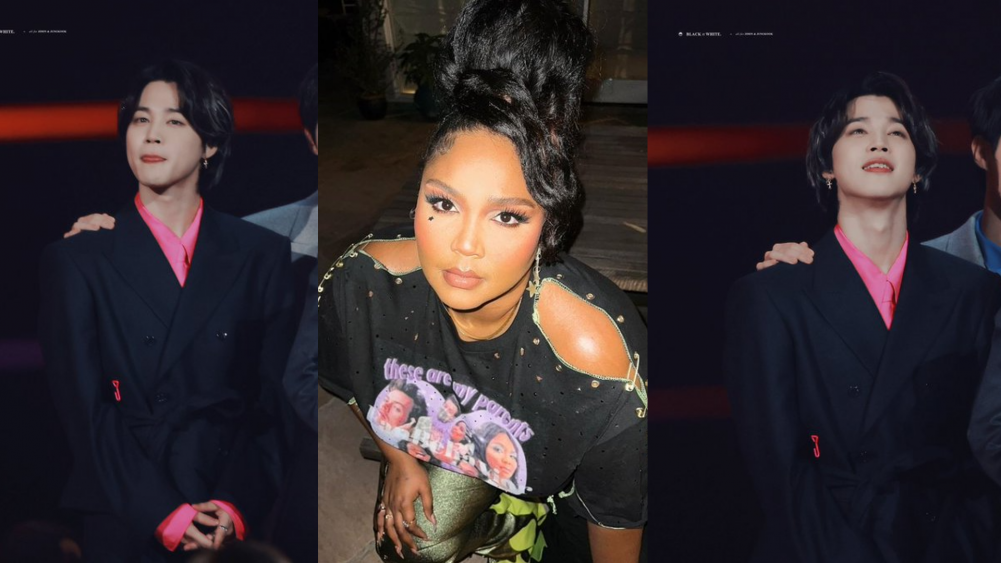 Harry Styles had a concert on November 20, and it was noted that a number of celebrities were in attendance, including Jimin, V, Jungkook, and j-hope from BTS. During this concert, the interaction between the BTS members and Lizzo gained a lot of attention, especially since Lizzo has previously stated that she is a fan of Jimin and he is her bias. Lizzo also stated that she likes his friendship with V.
The news of BTS' attending the concert and how they enjoyed themselves had spread everywhere with photos and videos posted on social media by fans who saw them, and Lizzo was right by their side equally having a good time. In particular, Jimin's interaction with Lizzo went viral on various online platforms, including Twitter, TikTok, and theqoo, as fans and Korean netizens swooned over how sweet their meeting was. Jimin politely bowed to Lizzo, and she bowed back. He remained socially responsible all through the concert, so much so that even representatives from the World Health Organization acknowledged and praised him for this. Korean media even reported on how this interaction was more mentioned on SNS than Harry was.
Consequently, when BTS attended the AMAs on November 22, where they had a clean sweep for all of their nominated categories, including the Artist of the year Award, Access Hollywood asked about this meeting with Lizzo during Harry's concert, while they were on the red carpet.
Jimin only had nice words to say about Lizzo, and further added that she is attractive/charming, as translated by RM.
This particular statement immediately gained traction and became a hot topic online, as fans praised Jimin and found comfort and validation from such words. Mainly, Lizzo has previously spoken of the struggles she faces because of her body size, and it is relatable to many people who consider their bodies to be plus-size. She said, "I know i am beautiful, I just don't feel it."
Such negative feelings and thoughts come from what society defines to be beautiful, and not fitting into that criteria can make anyone feel not beautiful, which can be detrimental both emotionally and mentally. Therefore, the fact that Jimin, a global superstar and one of the most attractive men to ever exist, referred to her as charming/attractive was refreshing to many fans, especially those who consider themselves as plus size. It was even more meaningful because South Korea is one of the countries with stringent beauty standards, and yet Jimin did not abide by those standards.
Fans on Twitter praised Jimin for his statement, saying they felt better about themselves after hearing him call a lady of their size as attractive/charming. Some specifically say that even though they try to maintain a healthy lifestyle as opposed to trying to cut down weight, it is still a struggle for them due to popular opinion and the media that dictates what the perfect body size is or should be. Here are some of their comments.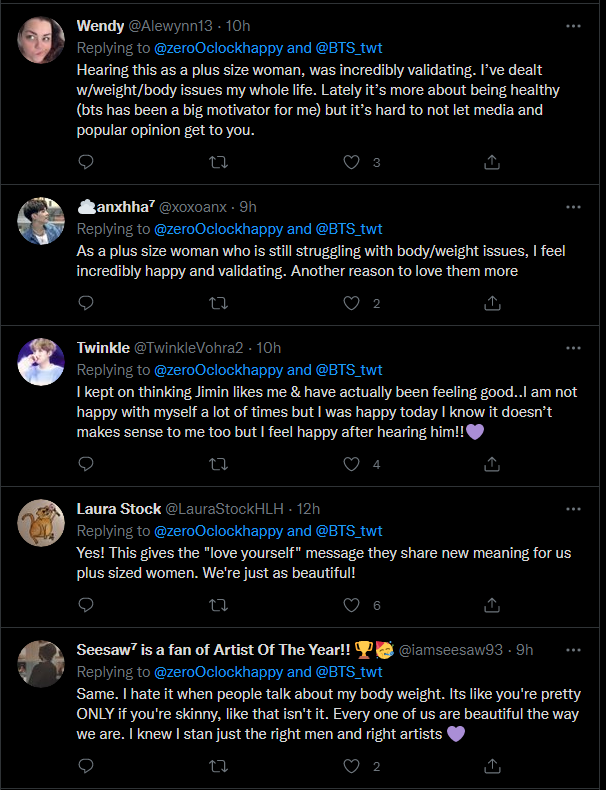 There were thousands of such comments, and some media outlets even picked it up and acknowledged the praises flowing in for Jimin.
Jimin is a true source of comfort for everyone experiencing different issues in life, be it regarding physical appearance or mental and emotional struggles. His words and actions always heal and bring confidence to everyone. It is an absolute blessing to know Jimin.