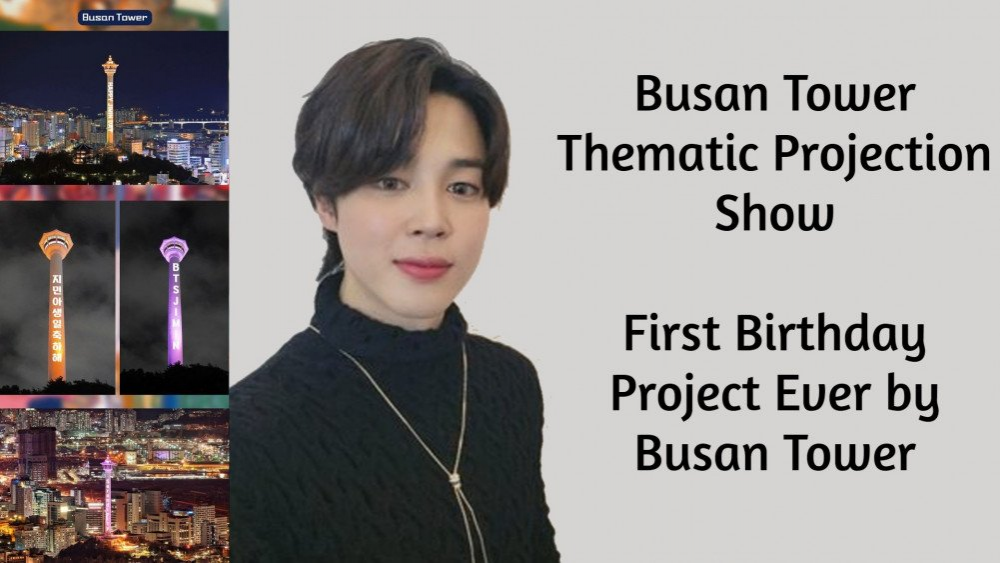 Jimin goes down in the history books with yet another 'first-in-the-world' kind of birthday support project, this time centered in his hometown of Busan, thanks to his Chinese fanbase, PARKJIMINBAR. With the project titled 'Light Of The Setting Sun,' Jimin will become the first person in the world to have a thematic projection show of Busan tower, an event that will take place on October 13 between 20:00 and 22:00. Of note is that the Busan Tower has never undertaken any birthday project for an artist before, and Jimin is re-writing history for his hometown.
Located in Yongdusan Park, which is considered to be the most city's most lively region, Busan tower is the landmark of Busan. Consequently, being a landmark places emphasis on the influence that the area has on the public, which will give high importance to the event being held at the tower. Additionally, the tower is 120 meters high, and the show will cover the whole tower, thereby ensuring maximum exposure as it will attract more eyes. The show will last for 2 hours, which is also a long enough period to draw attention to the project and therefore enhance the promotion effect. Moreover, the customization of Jimin's exclusive birthday-themed tower projection light show will utilize the latest technology for an aesthetic and highly impactful show. Every single one of the striking features of the project will serve to ensure high impact in promotion through a wide audience reach, high aesthetic value, and prestige.
Being the first time ever for such a show, the negotiation process was extremely tasking. However, Jimin's massive popularity with his superior influence and overall positive light set the tone for positive feedback on the proposal to hold this project. It is a historical moment for Jimin to be accorded this opportunity, and his fans could not be more proud of him that his character and power speak for him anywhere.
The show will include some birthday wishes and 'Happy Jimin Day' lighting up the whole tower, a sight that no one would wish to miss!


Here are some images and video clips by the project organizer and from fans who were able to see this project.
Jimin's fanbases are still announcing new celebratory projects for Jimin Day. The Canadian fanbase made a donation in Jimin's name to Kids Help Phone, a nationwide organization focused on helping young people experiencing various forms of challenges in their lives. The fanbase was inspired by Jimin's consistent concern for the wellbeing of children and young people and followed in his footsteps to support the same causes.

In Egypt, Jimin's fanbase announced yet another part of their series of projects to honor Jimin's day. The fanbase made a donation to 'Harir Organization' in Jordan, with the donation aimed to support 'wigs of hope' that will be gifted to kids battling cancer. It is challenging for the patients going through this journey, and any act of kindness that will make their journey a little more bearable is always encouraged. Jimin will always support any effort to better the lives of children.
In partnership with @sCasmin13s, the fanbase in Malaysia made a donation in Jimin's name to WWF Malaysia to help in the fight against illegal animal trading. Jimin is an animal lover and would be proud to know that his fans are supporting causes he believes in for the betterment of the world. The same pair also donated to UNICEF Malaysia to help in the supply of vaccines to children across the globe, having been inspired by Jimin's recent donation towards the eradication of polio. Children are the future, and their health should be a priority for everyone.

Other fans organized for Jimin ads in all the strategic and popular hot spots around the world, such as The Times Square, among other areas.
In Bangladesh, Jimin's fanbase practiced kindness and humanity as Jimin always does, and shared 20 meals to some helpless people, and helped to put a smile on their faces for the day, in honor of Jimin's birthday.

The Brazilian fanbase arranged for Instagram story ads for Jimin to be run from October 13 at 10:13 till October 14 at 10:13. The ads will have three different versions for all three of his solos songs, Filter, Lie, and Serendipity.

Fans in Egypt made a donation under Jimin's name, to fund a 'Joints Fusion Surgery' for a dog after it was rendered immobile following an accident. Jimin is known to love dogs a lot. His heart would be warm for such an act of kindness to a dog.
In Bolivia, fans had a spectacular show to celebrate Jimin's day, organizing an Aguas Danzantes water show with Jimin's videos projected onto the fountain in Cochabamba, Bolivia. It was such a beautiful sight.
According to one fan, so far, there have been a reported over 400 cup holder and cafe events with more than 170 donation projects.
The projects by Jimin's fans have been of a broad spectrum, ranging from donations, charity events, video ads, animal adoptions, and flamboyant promotion events. The Jimtober festival will be to be remembered for a long time to come.
Happy Jimtober.