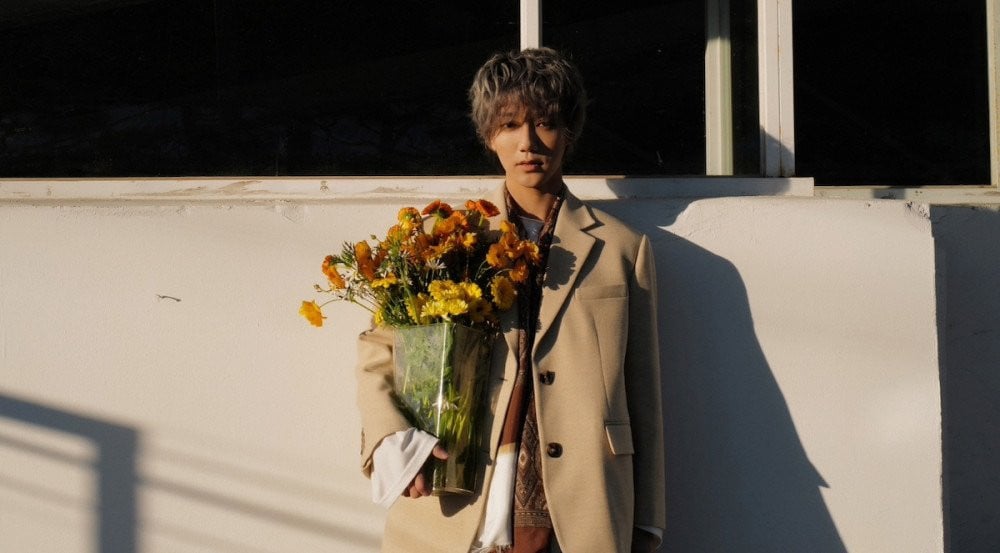 "Beautiful Night" is Yesung's fourth solo mini-album, and the concept he wanted to show in this album is the combination of romance and loneliness while being filled with thoughts on a dark night. Discussions for his solo album began last year, but Yesung wanted to prioritize the Super Junior K.R.Y. album with Kyuhyun and Ryeowook, which was released last summer because it had been so long since the unit was active. In the past, Yesung said he used to wonder, "Will people like my music? How can I make the listeners satisfied?" but with this album, he just wanted to show the music he liked.
In order to make a better album, Yesung said he had to give up his obsession [with writing songs] and collaborate instead with the best songwriters that he thought were better than him. In the end, he was satisfied with the songs he received, so he found that it was the right decision.
"Beautiful Night" and "Fireworks" are city pop style songs, while "Lost Heart" and "Like Us" have the distinct concept of a British band. "A Letter in the Wind" reminds Yesung of the 70s and 80s music, and he put a lot of heart into it because he likes listening to vintage songs. When designing the album, the photos and layout were all prepared carefully with a vintage aesthetic as well. He also revealed that when he was recording "A Letter in the Wind," he was dealing with severe pain from his neck discs, and it hurt so much every time he sang a high note.
Yesung said, "No More Love" is his favorite kind of song because it makes you feel like you're in a dream when you listen to it. Its songwriters are big fans of Super Junior, and they also helped Yesung arrange "Here I Am," which was the title track of his first EP released in 2016.
When asked if he thought the Super Junior members would listen to "Phantom Pain," the other title track of the album, Yesung said, "Brothers and sisters don't contact each other that often. The members and I are like brothers. We're not interested in each other and we don't care who does what." When Yesung told Kyuhyun that he enjoyed listening to his newest song, "Coffee," Kyuhyun was surprised and called him sweet for saying so.
Yesung also admitted that he hasn't seen all of their music videos either. "They're probably not interested in my album, but they'll definitely support me deep in their hearts." In fact, Eunhyuk sent a coffee truck to the music video filming site for "Beautiful Night."
Something that Yesung's fans know well is that he easily gets lonely. "I feel empty when I'm left alone after finishing work. When I'm alone, I want to be with people, and when I'm with people, I want to be alone." He finally said that he was very relaxed while making this album, because Yesung feels like his fans heal him, cheer him up, empathize with him, and cry with him, and those feelings give him hope and energy every time he prepares albums.