D'splay, the masked YouTuber who is, ahem, most definitely NOT Daesung, recently released an unboxing video of his sliver play button from YouTube to the delight of fans. He finished the unboxing with a recreation of Daesung's famous "smellll" cameo from BIGBANG's iconic parody of Secret Garden.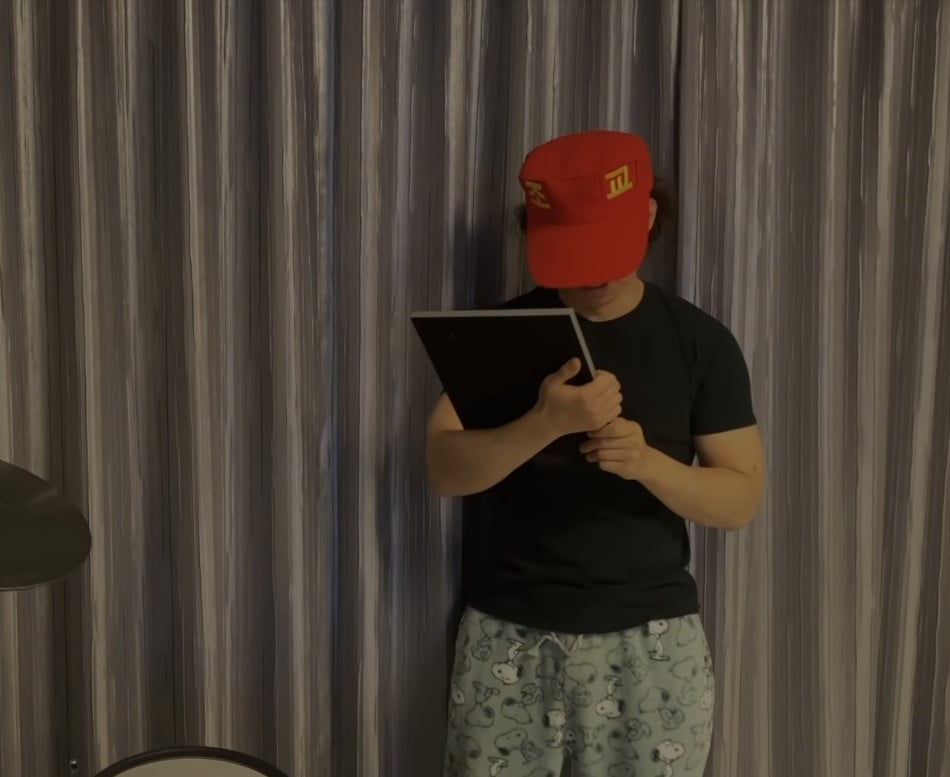 Fans have been charmed by the amusing roleplay that Daesung carries out on his YouTube channel. He pretends to be an unknown YouTuber called D'splay, who does drum covers, is definitely not a celebrity, cannot sing, and is a huge fan of BIGBANG and Daesung. Fans play along with this sublime charade, and the comment section is full of fans insisting to newcomers that D'splay is not, in fact, Daesung and inventing increasingly hilarious reasons why this is the case. D'splay then joins in the fun, vehemently agreeing with the fact that he is not Daesung. Much fun is had by all.
The fact that a small YouTuber called D'splay was the superstar Daesung of BIGBANG was released by a Korean media outlet a little while ago, causing the number of subscribers to the channel to rise from 80 to 100,000 overnight. D'splay responded to the 'reveal' by stating that he was definitely not Daesung and would continue to post videos as D'splay.
D'splay's channel is also famous for his vocabulary lessons for English and Japanese through witty skits featuring Lego characters and his voiceovers. He scripts and films these on his own, making them particularly delightful for fans. Unlike most other celebrity YouTube channels, he does everything, including the filming, editing, subtitling, conceptualizing, and uploading of videos on his own without a dedicated production crew. In fact, he even learned to request the YouTube silver button on his own.
Fellow member of BIGBANG, and a man renowned for his golden voice, Taeyang, often joins in on the fun under his own YouTube alias, alternatively teasing and supporting D'splay. Their recent banter in the comment section also featured the hip-hop artist Beenzino, who served in the army with the two members of BIGBANG. In response to Beenzino commending D'splay for a cover of his song, Taeyang suggested that as tigers leave behind pelts, D'splay would leave behind his pajamas. This was a reference to D'splay's famous pajama collection, which, along with his biceps, is featured prominently in his drumming videos.
How would you feel if the obscure YouTube account you had been following and regularly communicating with via comments for nearly a year turned out to be a global superstar with millions of followers on his main account?