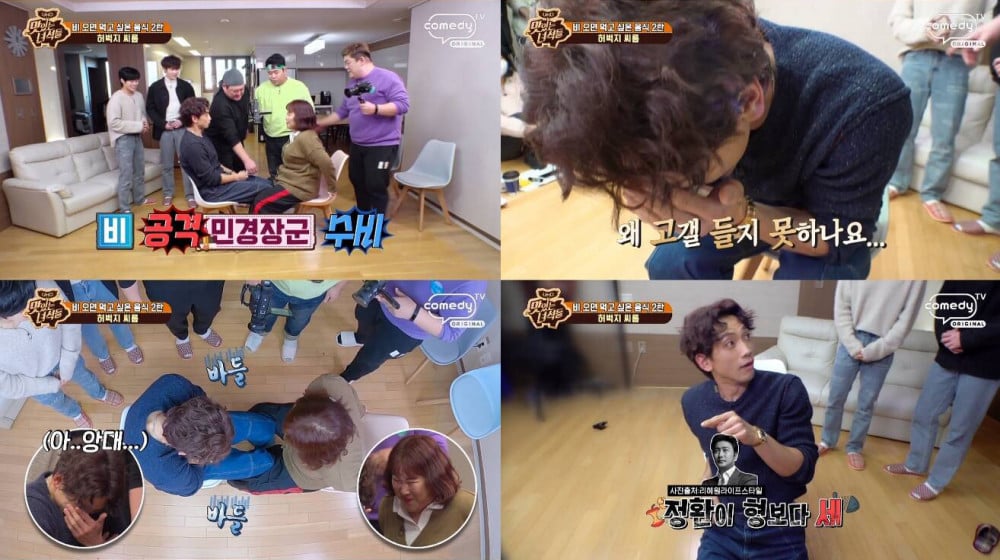 On the March 12 broadcast of Comedy TV's 'Delicious Guys', Rain faced off against female comedian Kim Min Kyung in a thigh wrestling match!
The two stars decided to work off some calories after feasting on kimchi pancakes, kimbap, and more. While eating, Rain boasted about his victories against professional athletes in past thigh wrestling matches.
When the two competitors sat face to face, the 'Delicious Guys' members also named opponents Kim Min Kyung has beat in the past, which included professional trainer Yang Chi Seung and pro-golfer Park Se Ri.
First, Rain was on the defense, as Kim Min Kyung placed her thighs on the inside and tried to push Rain's legs out. Rain complained, "As she pushes, she also slides her feet out bit by bit. Isn't that cheating?" Kim Min Kyung argued, "That's my secret skill."
Next, Rain went on the offensive. Immediately, he went for the attack to try and push Kim Min Kyung's legs out, but Kim Min Kyung did not budge.
When neither side showed no signs of budging, the other cast members called it off "to protect the competitors' integrity".
Afterward, Rain could not bring himself to lift his head while laughing, hiding behind his hands. He commented, "Well that was fun." Check out the clip from this week's 'Delicious Guys' below!