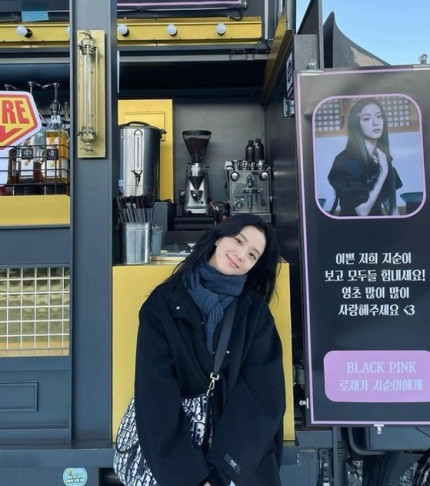 BLACKPINK's Rose sent a lovely coffee truck for Jisoo to the set of her drama 'Snowdrop' and netizens are talking about how Jisoo has the face fit for the role.

As previously reported, Jisoo posted pictures of herself posing in front of the coffee truck on her Instagram on December 16th. In a caption, she wrote, "The first coffee truck in my life comes from Park Rose. I love you #Snowdrop #YoungCho", thanking Rose for the thoughtful gift.
In front of the coffee truck, a cute banner relays a message "Everyone cheer up with our pretty Jisoonie! Please shower Young Cho with love <3 From BLACKPINK Rose to Jisoonie".

Slated to air during the first half of 2021, Snowdrop is a historical romance series. Jisoo will be starring in her first-ever drama series as the female lead, Young Cho.

Netizens shared their thoughts in the comments: "I now completely understand why she plays the role of a university student in the 80s."
"I love her natural-looking makeup"
"She can pull off both idol and actress makeovers"
"Rose is so kind and sweet"
"I'm looking forward to the premiere <3"
"She gives me Tang Wei vibes in these pictures"