The news of Sulli's death came suddenly. The police received a report on October 14 at 3:20 pm that the singer was found dead in her home. The news spread quickly, and the entertainment industry fell into a deep grief. The public debate was sparked about the seriousness of malicious comments that continually cost many lives of the entertainment world. We have looked at the news that came so unexpectedly and the series of things that have happened since.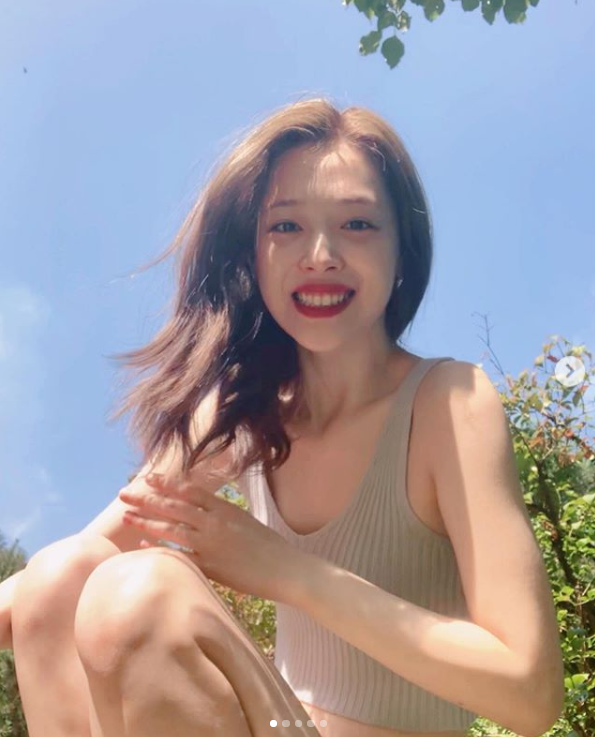 ◇ Condolences of fellow entertainers and the entertainment world completely paused to grieve.
After the news of Sulli, many fellow entertainers, including Ahn Jae-hyun, Goo Hye Sun, Park Ji Min, Ha Ri Su, Din Din, Shin Hyun Jun, Sunday, Gu Hara, Yun Il-Sang, Kwon Min Ah, expressed condolences on the singer's death. Many artists remembered Sulli.
Most of the upcoming events were canceled. All scheduled events of Super Junior, Super M, Taeyeon of SM Entertainment either were canceled or postponed indefinitely. Production presentations and photo call events of many programs were also canceled one after another. The program where Sulli appeared, The Night of Hate Comments, also canceled the broadcast on October 18th.
The members of the group f (x) of which Sulli was a member stayed with her at the funeral parlor. Crystal stayed for three days during Sulli's funeral and attended the ending procession of the funeral with other fellow members, Victoria, Luna and Amber. As soon as Sulli's obituary was heard, Victoria resolved the visa issue in China and hastened to enter South Korea, while Amber, who was preparing a new album in the United States, returned to Korea postponing other schedules. Luna also stopped the musical 'Mamma Mia' schedule and headed for the funeral.
◇ Sulli's Funeral in Private → Seperate Space for Fans' Condolences
On October 14th, SM stated, "Sulli's bereaved family members are deeply saddened by the sudden loss and want to have a funeral quietly."
All of Sulli's funeral proceedings were carried out privately. Afterwards, the agency announced on October 15th, "We have prepared a separate condolence place to let Sulli's fans to send their condolences as they supported the singer and encouraged her when she was alive. This was arranged according to the wishes of their families."
◇ Public's rage against malicious comments
After the new of Sulli's death broke out, the problem of malicious comments was brought to light causing numerous critics from diverse people.
On October 16th, the Korea Entertainment Management Association (KYA) announced, "We will take strong actions against indiscriminate cyber terrors and malicious verbal slanderings as well as hate comments to eradicate them fully from our culture."
The Korea Singer Association stated, "Those who are still living are responsible for sorrow." "We should go beyond the anger and make sure that our colleagues, juniors or seniors will not follow the same step. We will open a counseling desk inside our office and take any necessary measures to ensure mental health and legal support for the singers."
One petition was posted at the Blue House' National Petition Bulletin Board with the title, "I want strong punishment for those who posted malicious comments that drove Sulli to death," who drove celebrity f (x) Sully to death." The petitioner said, "If the law doesn't change, this will happen again. I think the law needs to be revised to become stronger so that those who thoughtlessly post hate comments can be punished."
The public's strong demand was made towards the urgent need of correcting online culture to eliminate malicious comments by changing internet system to be based on real-names.
Another hate comments were pouring against Choiza, Sulli's ex-boyfriend. The singer Ha:TFelt wrote, "Do not sprinkle salt on someone in distress." "You don't deserve to post malicious comments," added the singer in fury.
◇ Leaking of 119 Report on Sulli's Death → Apologies from fire authorities
On the day of the news of Sulli's death, leaking of a report on her death occurred inside the fire department. Since then, the report has been published on various SNS and blogs of portal sites. Gyeonggi-do Fire and Disaster Headquarters requested that the SNS account holders to delete the document.
However, the public's anger over the situation has not subsided, and the Gyeonggi-do Fire and Disaster Headquarters held a press conference on October 17 to give an official apology.
◇ Sulli became so 'eternal star'
On October 17th, Sulli's funeral process was finalized at a funeral home in a hospital in Seoul. Her coffin was moved to Sulli's hometown, and only the family, acquaintances and close colleagues attended the funeral ending.
SM sincerely thanked the many artists and entertainment officials who mourned for the event, adjusted their schedule. They wrote, "Thanks to the condolences and mourning of many people, we could send off Sulli in warmth and peace."
"Sulli's beautiful image will last forever in everyone's memories," continued the statement. The company added, "We want to express our gratitude again for those who sent warm comfort."
This was how Sulli departed. She became a star in the sky after she fought against hate comments until the end. Her age was 25 years old.