aespa revealed the 5 rules that all the members must keep while living together in their dorms!
On October 8 KST, aespa made a guest appearance on the YouTube variety show 'MMTG - Civilization Express'. Here, MC Jaejae visited the aespa members' dorm under the concept of meeting with her potential new roommates. The aespa members then brought out a chalkboard that had a list titled, "Gwangya dorm rules".
The dorm rules were as follows:
1. It is a must that we eat meals together.
2. Share our things/food
3. Share our clothes wardrobe (even if our clothes mix in the laundry, it's ok~)
4. Every Saturday is PARTY 🙂
5. This is a lawless and amorphous place!
X The moment you violate the rules, you are kicked out!!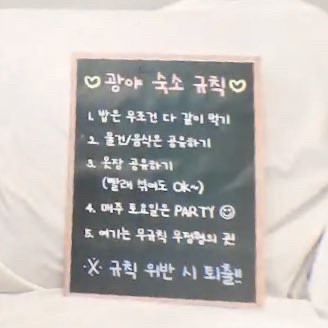 In response to aespa's dorm rules, netizens commented:
"What is Saturday party? They have a party among themselves? so cute TTTT."

"2 and 4 are for real. On Bubble, they would say who ate the food that they bought and frequently let each other know. I also saw them wear each other's clothes frequently."

"I want to [have my clothes] mixed in there too ha."

"To be honest, if you tell me to follow those rules, I would leave the group. It gives me stress."

"The others are okay, but they can really share their personal things too?...That's odd."

"I don't know about the rest, but the one where they share clothes is true. They go around wearing each other's clothes a lot."

"The weekend party sounds like a lot of fun."

"I lived in dorms throughout my high school years, but if your personalities match each other, then that's possible."

"They definitely added in some as a concept."

"I don't exactly know about 1 and 4, but 2 and 3 are true...fans saw their clothes wardrobe sharing list and spread around the image."