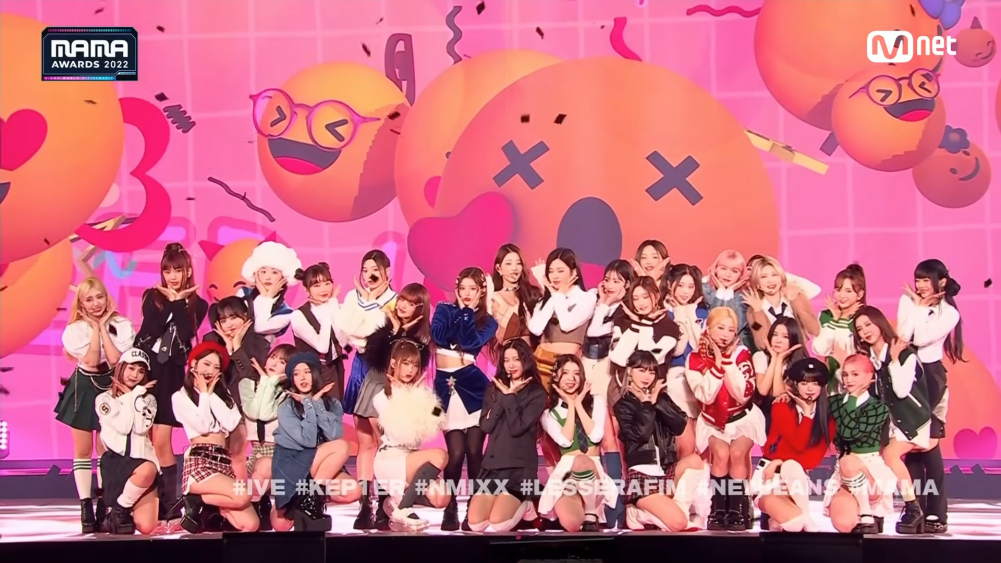 This year was truly the year of the girl idol groups, especially the 4th-generation idol groups, since many rookie girl groups gained recognition and popularity in 2022.

There was so much excitement for the year-end performances this year as it was announced that all the 4th-generation girl groups would get together for an exceptional performance at the 2022 MAMA Awards. The top 4th-generation girl groups, including IVE, Kep1er, LE SSERAFIM, NewJeans, and NMIXX, joined together and put on a large-scale performance this year.
A total of 32 female idols stood on the stage and performed together for the first time.


K-pop fans were in awe of the performances and were ecstatic to see all the girl group members perform together. Netizens commented, "The visuals of all the girl group are so crazy," "Wow, I'm so impressed to see all of them stand on stage together," "NMIXX members are so good at dancing," "I thought they would record a new song," "It was fun to watch their performance," "JYP girls are really good at dancing," "They are so cute," "NewJeans are so cute," "An Yu Jin is so good at 'Fearless' lol," "I thought they would do different performances in units," "It was good to see all the girls perform but the stage planning was a bit disappointing," "It's going to be so hard to gather them in one stage again, they should have planned better," and "I love the combination of all the girls but the stage planning wasn't the best."