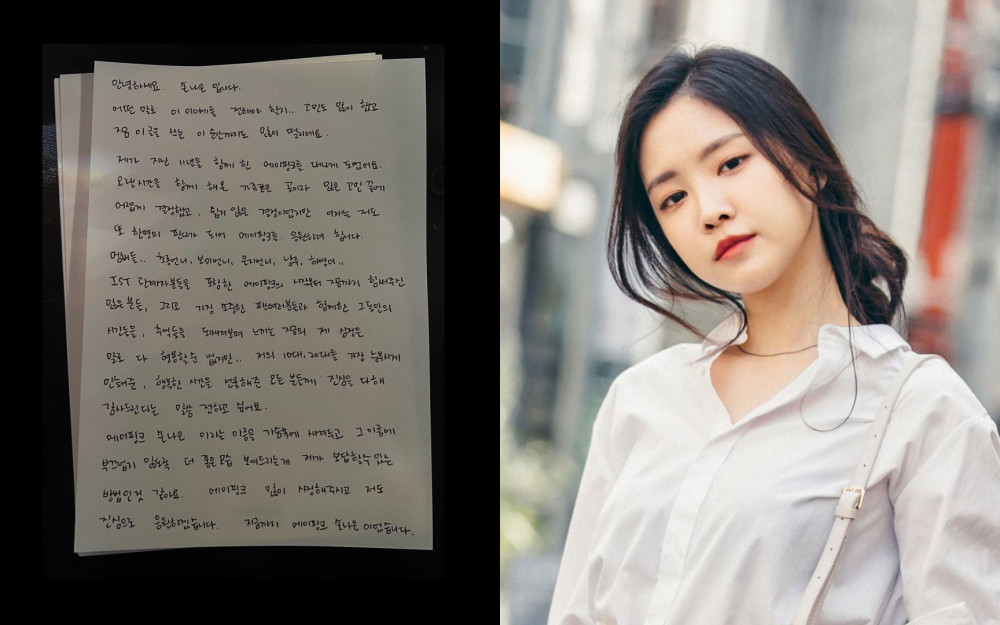 On April 8, it was reported that Na-Eun has officially departed from Apink.
According to insiders, "Na-Eun decided she can no longer participate in A Pink's activities due to other schedules at the same time." Therefore, she had made the difficult decision to part ways with the group.
On this day, Na-Eun posted a handwritten letter informing her fans of the news on her Instagram.
She wrote:
"This is Son Na-Eun.


I contemplated a lot about how I should deliver this and I am still nervous even at the moment that I am writing this letter.



I have come to depart from Apink, which I've been with for 11 years.


I contemplated a lot because Apink is like the family I've been with for a long time. After much deliberation, I made a difficult decision.
It was not an easy decision, but now I have decided to become another Pink Panda and show my support for Apink.
I can't describe my feelings in words while looking back at the past and the memories of being with members Chorong, Bomi, Eunji, Namjoo, and Hayoung...including the staff members of IST and everyone who put in much work from the beginning of Apink until now, especially our most precious fans...
But I want to say my sincere thanks to everyone who gifted me the happy times; those who made my teens and 20s most dazzling.



I will engrave the name Son Na-Eun of Apink and I think the best way to repay everyone is to show a better side to me so that I won't bring shame to that name.



Please love Apink and I will show my sincere support for them too.
This was Apink's Na-Eun!"