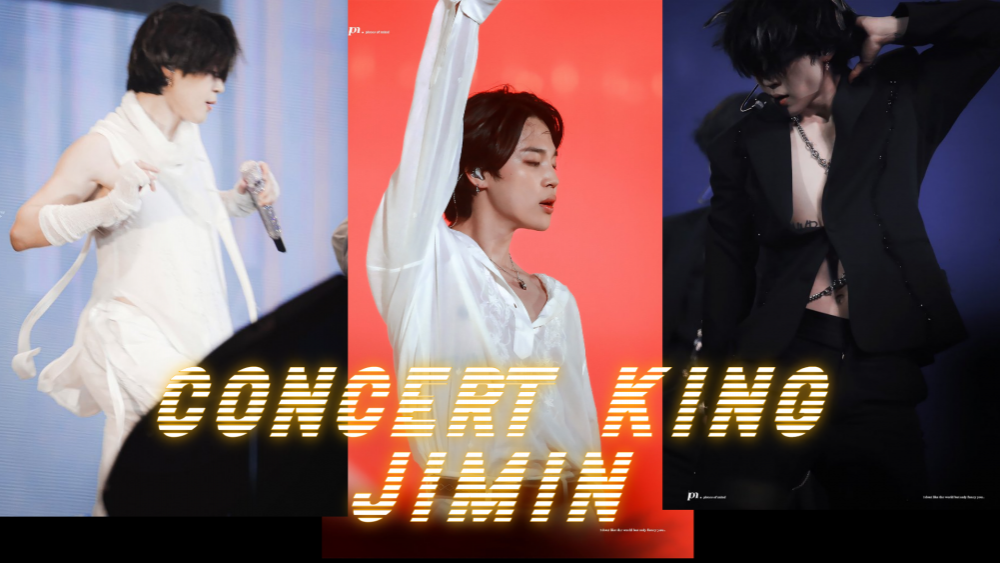 On November 29, BTS concluded Day 2 of the#PTD_ON_STAGE_LA concert, which is scheduled to be held for four nights. Just like the previous day, the atmosphere was absolutely electric after the performances, as well as the chance to see the members of BTS in person and up close. For some fans, it was the first meeting after such a long time, and for others, it was the very first time that they got to see BTS. All in all, it was a memorable day for those who attended the concert.

Jimin's fans particularly came ready to cheer and show him support. They wanted to make him feel happy and show him how much he had been missed on stage. They came with all kinds of merchandise that would explicitly show who their bias is, ranging from a blanket with Jimin's name, a Jimin poster, a flag with his initials, painting his name on the ARMY bomb, wearing a giant 'Chimmy' suit, clothes with 'Chimmy' on them and 'Chimmy' headbands, and carrying a fan with Jimin's name and birth date. One of such fans spotted was Liza Soberano, a popular Filipina-American actress, model, singer, and endorser.
Jimin saw the blanket with his face on it, and he was very happy about it, which in turn made his fans even more elated.
During the concert, fans noticed the thunderous cheers for Jimin whenever it was his part to sing or when he was at the front-center for the choreography. The crowd loved every moment of him on stage. Jimin has always been a shining star in any performance, and they did not hold back to show him that he was the stage commander as always.

Just as fans came with every intention to make Jimin happy, Jimin also reciprocated the deed. It is a dream for any fan to get attention from their favorite idol, and Jimin was seen doing exactly that all through the concert. He wanted fans to have a memorable experience as well. Thus he was seen engaging with them at close range. He made direct eye contact with some and nodded at them. For others, he knelt down to get closer to them when he was on the moving cart, and others said Jimin was singing with them on the row where they were seated.

While interacting with fans, Jimin also kept looking out for their safety, asking them to be careful and not to push too much. He is always very caring and concerned with the safety and wellbeing of others, which makes him all the more lovable.

Aside from how sweet he was being with fans, he also made sure to give his all on stage, and he looked absolutely breathtaking, too, while doing so. The audience could not stop praising his unbelievable beauty, the honey-glazed enchanting vocals, and mesmerizing stage presence. He stood out as always, which can be seen even from the crowd's reactions. Here is what some of the fans had to say.
As it has now become a common occurrence, different verified accounts and famous individuals posted on their social media pages about Jimin, marveling at his beauty and ecstatic about seeing him on stage both before and after the show. The list keeps growing from Day 1 of the performance. It includes supermodels, producers, news reporters, DJ, rappers, show hosts, and YouTubers, to mention a few.
Having stolen the show yet again, Jimin's searches on YouTube and on the Web hit 100% severally in the US, South Korea, and worldwide.
CONCERT KING JIMIN and other keywords trended on Twitter.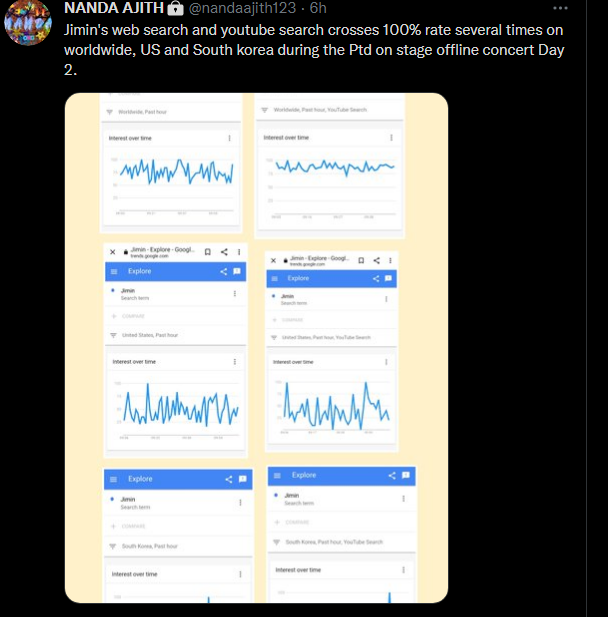 Fans are looking forward to more enticing performances from Jimin in the remaining days of the concert.