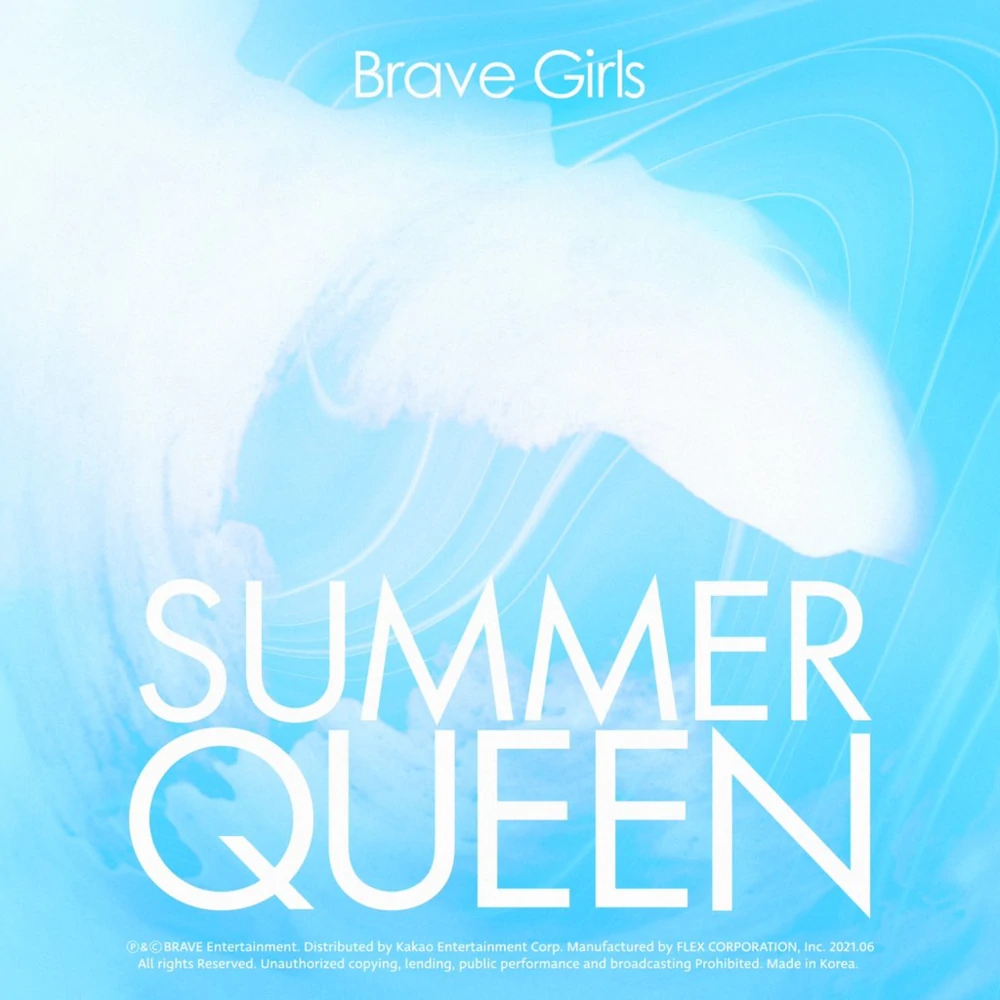 [This review reflects the opinions of the author and not necessarily those of allkpop.]
Track List:
1. Chi Mat Ba Ram
2. Pool Party (Feat. E-CHAN of DKB)
3. Summer by myself
4. FEVER
5. Chi Mat Ba Ram (Eng. Ver.)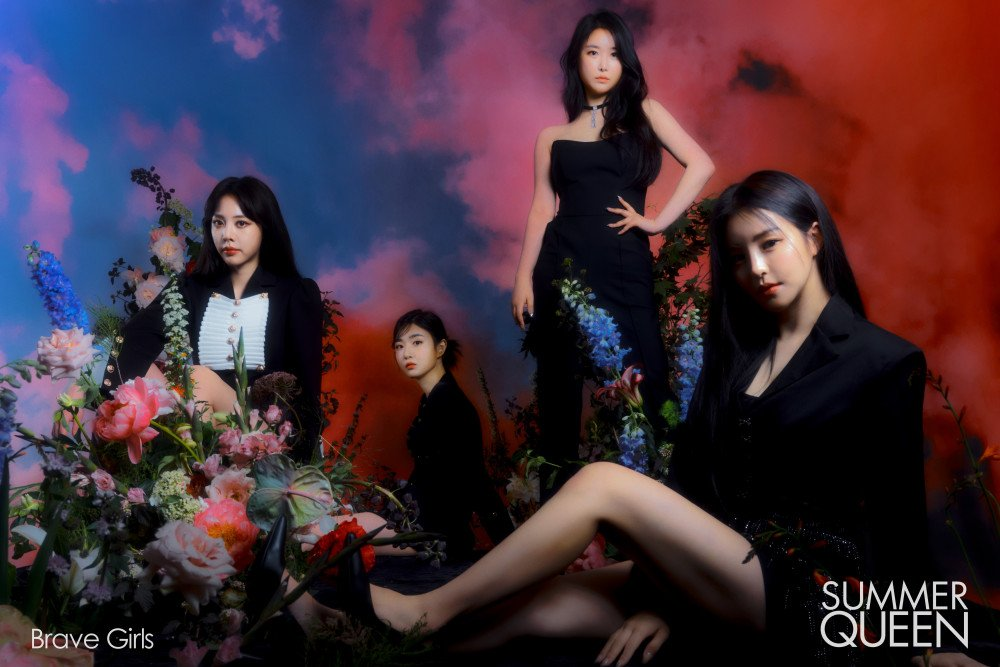 Sailing into summer with their triumphant return is Brave Girls, with their newest album release, Summer Queen. Featuring five new songs for fans to enjoy, Summer Queen is the group's first official comeback since their 2017 hit "Rollin'" went viral again. "Chi Mat Ba Ram" is the group's chosen title- a classic house pop sound that's reminiscent of K-Pop in the mid-2010s. With sky-high vocals and addicting dance-pop flair, "Chi Mat Ba Ram" was produced to evoke all the feel-good aspects of having fun under the summer sun. This title embodies the spirit of summer while re-visiting the nostalgia that only Brave Girls can offer. International fans rejoice, "Chi Mat Ba Ram" has also been released in English!
Also being promoted by Brave Girls is "Pool Party," featuring E-CHAN of DKB. This track sits at the same table as "Chi Mat Ba Ram," and its ultra-infectious 'la la la' melody is sure to get stuck in your brain like gum on the bottom of a school desk. "Pool Party," in some ways, feels like an extension of "Chi Mat Ba Ram," but it's so upbeat and joy-invoking that it's easy for the listener to let it slide. Hearing Brave Girls feels like a blast from the past, and E-CHAN's verse only perpetuates this with his mid-2010s rap delivery.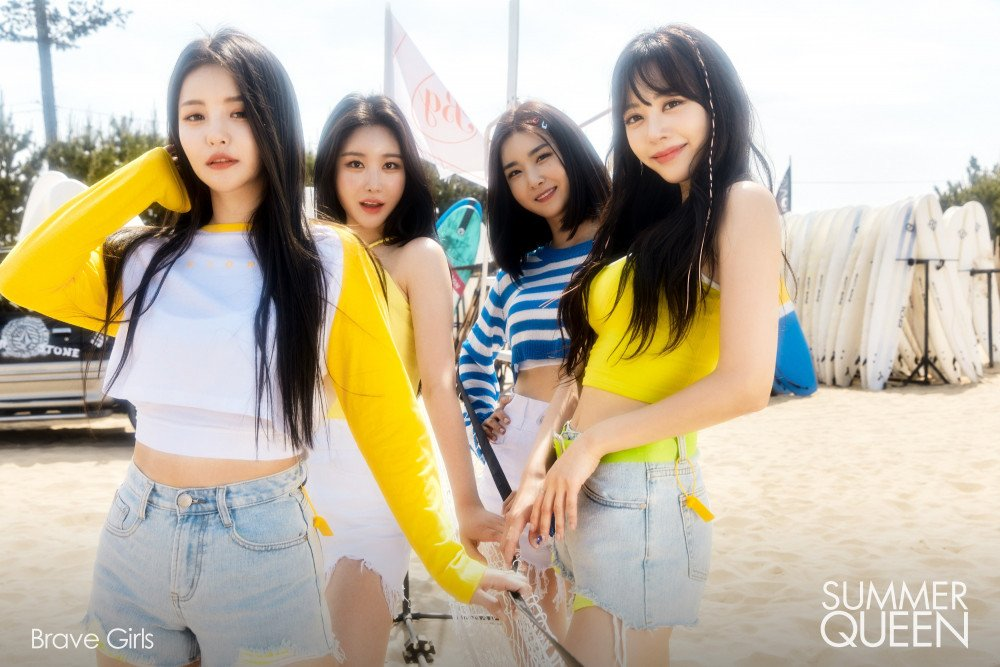 "Summer by myself" really kicks it back to the 90s with an old-school hip-hop drum break. The song feels significantly more lo-fi than the two tracks prior due to its minimalist approach. Frankly, Brave Girls should have opted to leave this jazzy 90s concept in the past and stick with the playful nostalgia of dance-pop as their focus for Summer Queen, as "Summer by myself" never fully satisfies the way I'm waiting for.
"FEVER," on the other hand, is a disco-laden, funk-heavy hypnotizer! This song not only offers the most straightforward and modern approach at a single, but also showcases the group's most challenging vocal performance on this release. From the autotuned rap to the harmonized bridge, "FEVER" seemingly wraps up the beach trip this album takes us aurally.

MV REVIEW
Is it summer if a girl group doesn't dance barefoot on the beach in their music video? The answer? Of course not. Brave Girls offers us every stereotype a summer K-Pop song can possibly employ, but manage to get away with it by bringing forth a feeling of yearning nostalgia for the sound K-Pop summer songs had when the group had their reign a few years prior. Every shot in the MV feels familiar: from the beach to the showy choreography to the summer midriffs. "Chi Mat Ba Ram" is the embodiment of campy sentimentality mixed with the modern re-branding of K-Pop legends.
MV SCORE:
MV Relevance…..8
MV Production…..8
MV Concept……..7
MV Score: 7.67
ALBUM SCORE:
Album Production…...9
Album Concept……...8
Tracklisting…………...8
Album Score: 8.33
Overall: 8.0