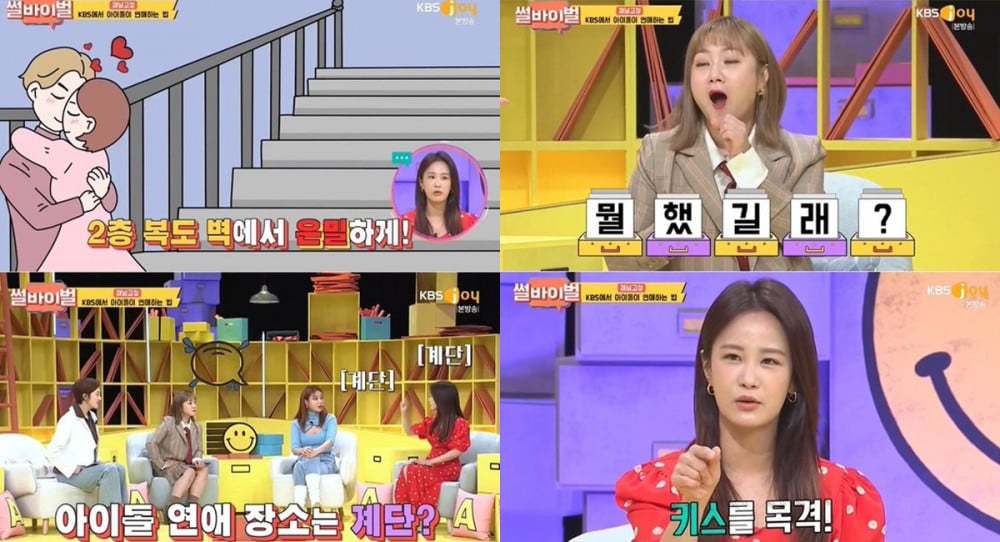 On the May 13 broadcast of KBS Joy's 'Ssul-vival', Wonder Girls member/solo artist Yubin appeared as a guest and shared some stories from her idol days.
When asked to dish some info on idols' dating secrets, Yubin said, "There are a lot of secret places where love signals come and go. I didn't even think of it, but it turned out, they meet in corner where the vending machines are and brush hands."
MC Park Na Rae also chimed in with, "I heard somewhere that they also put notes in the vending machine coin slots."
Here, comedian Kim Ji Min also had a story to share. She revealed, "I saw something once. But I don't know idols that well, so I don't know who it was. It was a 'Music Bank' day. I was on the second floor of the KBS building. In the stairwell, I saw them kissing. They were kissing against the wall. I think they were staying closer to the door so they could hear people coming, so no one would accidentally sneak up on them."
Hearing this, fellow panelist Hwang Bo Ra reacted with, "That's so bold. Now they can tell their children that they kissed inside the KBS building."