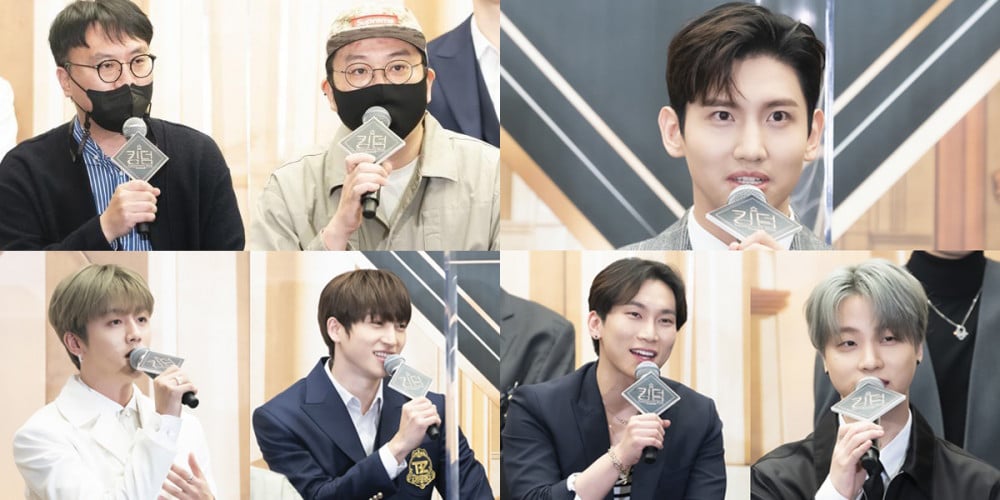 On April 1, the cast and producers of Mnet's latest boy group competition program 'Kingdom: Legendary War' attended an online press conference, just ahead of the series' premiere later this evening.
All 6 competing teams including BTOB, iKON, SF9, The Boyz, Stray Kids, and ATEEZ posed in front of the press in their respective groups, and afterward, representatives from each team joined Park Chan Wook CP, Lee Young Joo PD, and the main MC TVXQ's Changmin for an interview session.
First, Lee Young Joo PD explained the rules and voting of 'Kingdom: Legendary War', which will be different from the preliminary competition, 'Road To Kingdom'. The PD stated, "As for the evaluation and judging, the winner of each competition round will be determined based on 25% voting by the competing artists, 25% voting by a panel of 30 experts, 40% voting by domestic and global fans, and 10% via YouTube view counts. For the most objective evaluation, the voting will include global fans this time. We have also invited 30 entertainment industry experts to judge each round. We cannot say who they are yet, but the panel is made up of current producers, music critics, choreographers, MV directors, and more. For the final round, which will be held live, the rules will be a little different. There will be no eliminations. Each team has such a unique and different color and represents an artistic group in their own right, that it would be ridiculous to eliminate anyone."
Next, Park CP answered questions about TVXQ's Yunho, who originally started out participating as a co-MC until his recent COVID19 social distancing violation. "We will be editing Yunho's segments accordingly until episode 3. Afterward, Changmin will lead as the sole host. Changmin has been a great host so far and sincerely advises each of the teams as a sunbae. He has shown a respectable image as a sunbae. We are very thankful to have him. He may be fulfilling his role as the MC on screen, but overall, he is leading the program and the cast as their sunbae. We hope viewers will regard his position positively."
Finally, Park CP addressed the program's most recent controversy. Previously, some media outlets reported that some of the participating teams were accused of violating the stage budget limit. However, since then, Mnet has issued a statement responding that there was a communication error after deciding on a change in the stage budget limit, and not all of the teams were notified of this change correctly. Park CP revealed, "We truly apologize for the controversial issues that arose even before the first broadcast. But to clarify, there was no incident in which we were forced to halt filming due to disagreements. There is no such thing as a team that is receiving preferential treatment. An issue arose regarding the stage production. However, this stage was approved by our staff. We sincerely hope that none of the 6 teams and their agencies suffered damages because of this incident. We have since discussed the issues which arose during the first two rounds with each agency. Per the agreement of all companies, we have worked out the stage budget issue so that each team can creatively construct their stages. There will be no issues regarding stage production from round 3."
Will you be tuning in to Mnet's 'Kingdom: Legendary War' tonight on April 1 at 7:50 PM KST?