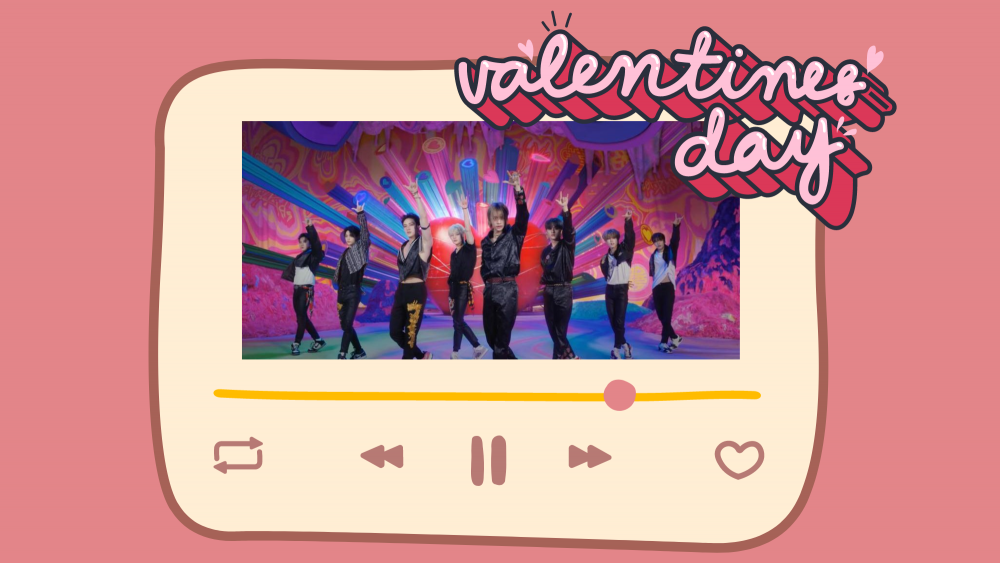 Valentine's Day is approaching fast, and if you still don't have a playlist filled with some of 2022's cutest lovey-dovey K-Pop songs, then we have your back! Here are some fun "I'm whipped for you" types of songs for you to add to your Valentine's playlist!
Stray Kids - Case 143
Is Changbin aggressively asking, "CAN I BE YOUR BOYFRIEND?" not fitting enough for the playlist? The entire song is literally just all eight of them confessing their love in the cutest but not cheesy way possible.
NewJeans - Hype Boy
Need we say more? Dedicate this song to your chemical hype boy. This is one of 2022's best releases yet, and it definitely deserved the HYPE.
ENHYPEN - Polaroid Love
This super cute song became one of 2022's viral songs not only for the fun dancey tune but also for how cute the lyrics are. Give your heart to your valentine with this song, as they sing, "here is my heart for you."
IVE - After Like
After confirming that we both like each other, what next? This is when we take it to the next level. What's after like? It's... LO (and an I )and a VE.
TREASURE - DARARI
Another 2022 viral song is Darari, and with how amazingly good it is, it deserved the spotlight. When you're just so happy in love, and it feels like a melody is playing whenever you see the person you're so whipped about, this is that song. Haruto also cutely raps his part with, "excuse me, miss, I L-O-V-E Y-O-U," we love you too, Ruto!
DKB - 24/7
This song is about being completely in love with your person; all you want to do is be with them 24/7, despite them being so busy, and not having any time for you. This is exactly how I feel about DKB, too, always wanting to be with them 24/7 despite them being busy.
JUST B - ME=
An underrated song that deserves the spotlight. This song has the most addictive chorus, "You(you) plus me equals we(we)," with great vocals and a very delightful beat. You won't regret listening to and stanning them.
B.I - Middle With You
There is no genre B.I can't do, and of course, he would be melting hearts everywhere with his talents and songs. Forget dedicating this song to your valentine; imagine B.I telling you, "I got nothing to lose, ya I love," oh, just thinking about it is giving me feelings.
WINNER - I LOVE YOU
I absolutely love how fun and fresh this song is, and they are just repeatedly confessing their love to you. Valentine's may be in winter, but it certainly feels like summer with this song.
Oh My Girl - Real Love
What is this feeling, you might ask? There is no one else who would give you love as real as these amazing girls. They sing about how the feeling of real love feels so unreal, and that could not be sung any better.
EPEX - Hymn To Love
If you want a very fun song with the freshest energy and somewhat cheesy but not too much, this is the perfect song. Pop quiz: how many times did they say the word "sarang" (love) in the song?
Nayeon ft. Wonstein - Love Countdown

Did Nayeon really just ask, "tell me, do you wanna be my lover?" She didn't even have to ask, because YES? But really, this is a great song if your person is not getting the endless hints you've been dropping them about you wanting them to be your Valentine's.
ILY:1 - Love In Bloom

My favorite part is the little dance break they did in the middle, and it is a very sweet-tuned song, with really great upbeat energy, that sings about their blooming love that's hot like fire.
Cherry Bullet - Love In Space
Whether on earth or in space or even in another dimension, I will find my way back to you and be only in love with you - that's what our seven sweet girls are singing in this fun retro-sounding song.