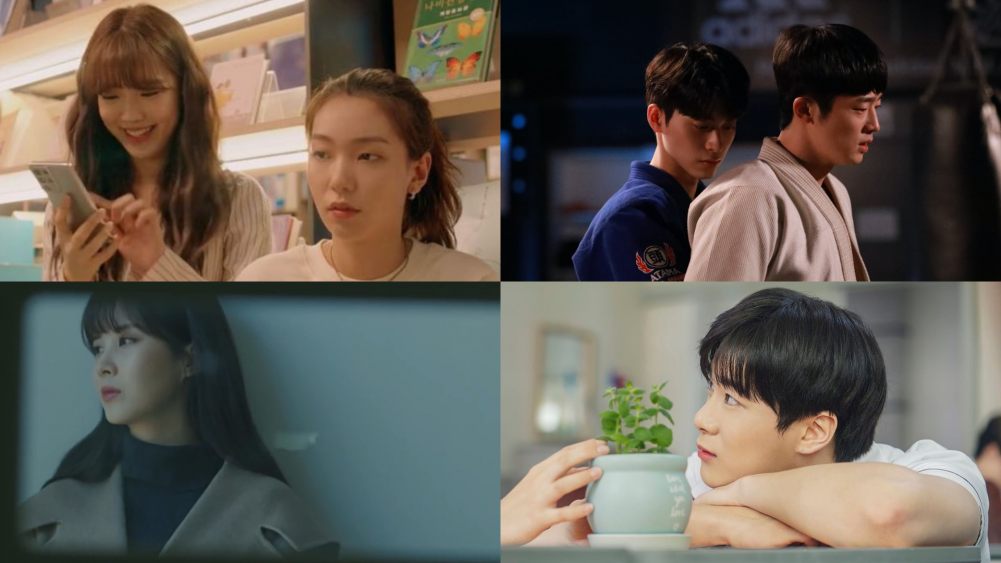 June marks the annual celebrations for Pride through parades, marches, and events among the LGBTQIA+ community, but it mainly aims to recognize the community, initiate meaningful conversations, resolve misconceptions, and take action toward inclusivity, representation, and rights.
It is undeniable that the world and the entertainment industry have a long way to go to provide a safe space for the LGBTQIA+ community, including representations in their shows and proper depiction of their stories and struggles. South Korea is not an exception, walking a journey toward a more accepting and supportive society for the community, one step at a time, with people striving to walk away from conservative and destructive views.
This is why LGBTQIA+ representation in media is highly influential, such as some KDrama series that tackle LGBTQIA+ themes and struggles, which can help in starting dialogue regarding these and hopefully shape the public's perspectives towards the community into good.
With these, here are some remarkable representations as seen in K-Drama series!
1. Nevertheless
In a KDrama wherein the lead couple spews off toxicity and stress, Nevertheless' viewers came to love a second lead couple that no one can't help but root for. Viewers dubbed them the best couple in the drama and called them together "SolJiwan," a cute combination of the characters' names, Yoon Sol (Lee Ho Jung) and Seo Ji Wan (Yoon Seo Ah). They are one of the few lesbian couples in the whole KDrama land, and an excellent portrayal and well-researched plot struggles at that. Sol is pining for her friend, and the viewers and netizens alike particularly loved how her confession was portrayed with genuineness and vulnerability, which goes the same for Ji Wan, who subconsciously knew her feelings.
2. Where Your Eyes Linger
The first BL web drama series, Where Your Eyes Linger, provide the first representation of gay couples being the main leads in the plot of the KDrama. The series tells the story of best friends of 15 years, Kang Gook (Jang Eui Soo) and Han Tae Joo (Han Gi Chan). Kang Gook secretly pines towards his best friend, keeping his feelings deep inside, and can't bring himself to admit it. Tae Joo, on the other hand, is a playboy and a chaebol who puts his huge trust in Kang Gook because he's his friend. But when someone takes a special interest in Kang Gook, Tae Joo's suppressed emotions start surfacing.

3. Hello Dracula
Hello Dracula, despite having two episodes, did not fall short in making an impact among the viewers. The drama tells the story of An Na (Seohyun), an elementary school teacher who has an internal struggle, particularly starting when she came out as a lesbian to her mother. She is also suffering from depression, which even worsened when she broke up with her girlfriend for eight years. The portrayal has vividly shown the struggle and anxiety regarding coming out, particularly coming out to her mother, who has been in control of her life and to whom she has always followed.
4. At Eighteen / Moment at Eighteen
At Eighteen reveals a wonderful friendship between Da Heen (Kim Bo Yoon) and Oh Je (Moon Bin), which most people should try and emulate. Da Heen had a really strong crush on her classmate Oh Je, to the point she confessed to the basketball player. However, as her feelings were revealed to be unrequited, she did not exactly feel better until she had a talk with Oh Je and became the first person to know that Oh Je was gay and had feelings for another person. Although Da Heen was shocked about the confession, she soon learned that right after their talk that Oh Je's confession was forced out to the whole school, and she confronted the person who was apparently eavesdropping. This is a reminder that any decent person would never force a person to come out publicly and that anyone who would do so should be reprimanded.
5. Itaewon Class
Itaewon Class is a popular Korean drama that broke prejudices. Ma Hyun Yi, a transgender chef who grows more comfortable in her own flesh and sexuality as the episode progresses, is one of the show's most memorable characters. She is a good friend of ex-convict Park Sae Ro Yi (Park Seo Joon), and she assists him in turning his bar-restaurant in Itaewon into a thriving company. Although it would have been preferable if Hyun Yi had been represented by a transwoman actress, as the role was played by cisgender actress Lee Joo Young, we must commend the writers for their thoughtful and well-researched handling of her plot. This is also a step closer to providing more avenues for the proper portrayal of transgender characters in media channels such as drama series.

6. Mine
Mine centers around empowered women, one of them being Kim Seo Hyung as Seo Hyun, a prominent chaebol married to the first son of another chaebol family. She is rational, composed, and dignified, but she is unhappy because she has to suppress her affections for Suzy (Kim Jung Hwa), an internationally known artist who has been her secret and first love since college. As the protagonists continuously walk towards the rediscovery of their real identity, we also cheer on Seo Hyun, whose character was also carefully acted upon by Kim Seo Hyung, well aware of the intricacies of portraying the struggles of a member of the LGBTQIA+ community.

7. Hometown Cha Cha Cha
Although, at first look, one would think there were no LGBTQIA+ themes or representation in the drama, we meet Yoo Cho Hee (Hong Ji Hee), the shy and reserved primary school teacher who would later admit that she likes her friend Yeo Hwa Jung (Lee Bong Ryun). She has been quietly harboring her unrequited feelings and pining toward her friend, but above all, trying to resolve the burden and pain of experiencing her first rejection from her own mother. As Cho Hee embraces her identity and her feelings, it feels bittersweet, and we couldn't help but hope for her happiness in her journey.
8. Seonam Girls High School Investigators
The first-ever on-air lesbian kiss in South Korea was featured in this series which broke the boundaries set not only among the LGBTQIA+ relationships in dramas but much in particular among lesbians whose love is much more frowned upon by the society. This series took a serious look at the two girls' same-sex love while also highlighting many real-life concerns such as bullying, suicide, and more through their cases. Sadly, upon its airing, some raised concerns regarding the scene to the Korean Communications Standards Commission, but many viewers aired their support, particularly as it bravely tackled homosexuality with seriousness and did not use the said kiss scene as comedic relief.

9. Be Melodramatic
Hyo Bong (Yoon Ji On), is the brother of one of the female leads and portrays an openly gay drama producer who is in a happy, stable, and loving relationship with a co-producer. The drama portrayed the sweet relationship between him and his sister and an invaluable friendship between him and his sister's friends, showing a powerful and hopeful message of acceptance among the people closest to you. The drama also shows scenes that can provide insight to cisgender heterosexual viewers who are not aware of what homophobia feels like and looks like.
10. Love With Flaws

The late actor Cha In Ha's surprising death back in 2019 has left sorrows among many KDrama viewers, fans, and the general public, and many people commemorate his memories through his acting projects. One of his most memorable portrayals would be as Joo Won Seok, who works as a bartender in a gay bar. He has shown a realistic portrayal of the hardship and the struggle of coming out to his family that drove him into an unspeakable amount of pain. This has comforted many people who have a hard time coming to terms with their sexuality, but as it was shown, no one owes an apology for being themselves.
With the current media landscape, there is no denying that there is an inevitable amount of influence on one's perspectives in relation to the media we consume. And with KDramas, a groundbreaking platform that is unspeakably reaching out not only to domestic viewers but international supporters as well, proper representation of the LGBTQIA+ community will be very important. As humans, not just being viewers and fans, we all should collectively be allies and a safe haven to the members of the community, who has been experiencing evident discrimination and unequal rights, and rally behind them too.
Which among these portrayals do you think has given justice the most? Which other representations have made a mark in your heart, and which ones would you suggest to viewers? Let us all continue to hope for more proper LGBTQIA+ representations among KDramas and other media content as well.