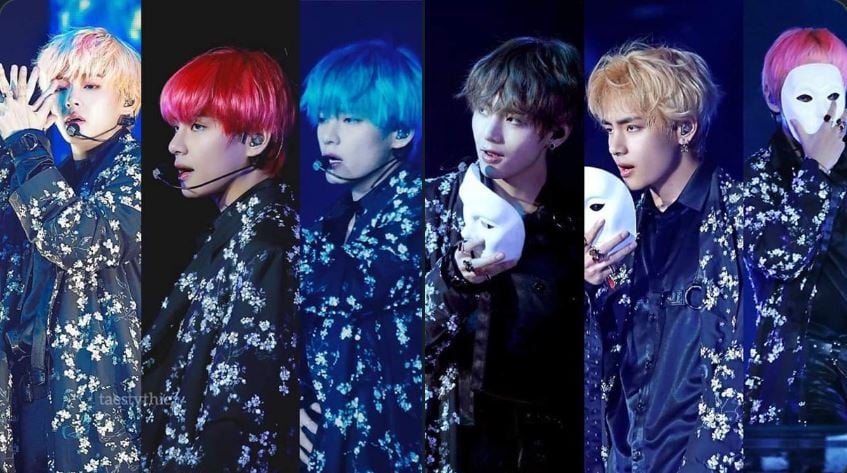 It has been 500 days since the release of "Singularity " - the only song in the discography of BTS that belongs in the RnB genre and which has since then received raving reviews and critical acclaim worldwide post its release. The song was the solo intro for the band's album Love Yourself "Tear" and was sung by Kim Taehyung aka BTS V.
After the release of this song, Korean media wrote that BTS V changed the face of K-pop and rewrote its history. They also said that the intro was like a hit-and-run attack. They described that it is "dreamlike, sexy", and that BTS V showed his sexy facial expressions & groovy dance moves. The MV surpassed 500,000 views in just 15 minutes after its release.


Fans loved this intro as it was a bit different from the usual songs that are produced in k-pop. To honour 500 days since its release, they trended hashtags #TaehyungOurPride and #Singularity500days and the Korean hashtag #소중한선물_싱귤래리티500일축하해 which means #PreciousGift_Singularity500DaysCongratulations. So sweet!
Soon the hashtags started trending in Korea and worldwide too!
The hashtags are trending in Vietnam especially.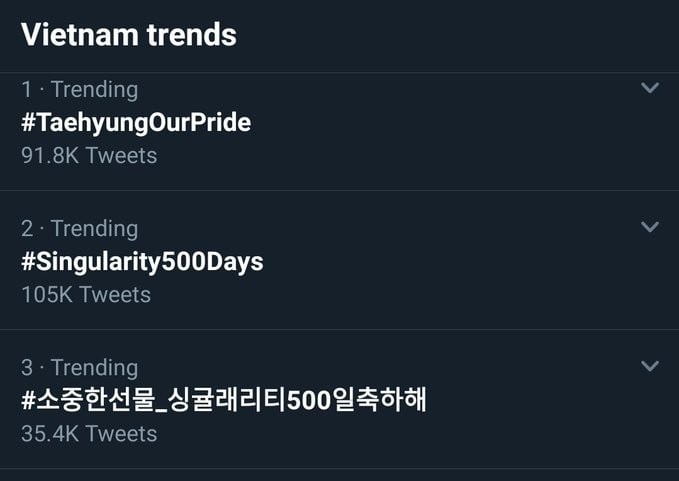 BTS V was truly stunning in his performance in the music video - the intro shows him dancing with his own hand and a coat stand which was a move that amazed many. He was truly mesmerising when he performed the song live. Singularity was the highlight of the band's Love Yourself Tour and it also became the highlight of the Speak Yourself Tour with critics and magazines such as TIME, LA Times, MTV and Rolling Stone commenting on his smooth vocals and flawless performance which was always unique each time. Singularity is also the first Korean solo song to be played on UK Radio. It is also recommended by media houses such as The Guardian and NY Times in their Best Songs ever lists.

Many vocal coaches have reacted to the Singularity MV and everyone has said the nearly the same thing- BTS V mesmerizes, enchants and stuns in the music video and also when he performs it live.
Recently, Neal Acree, an American composer of film, television, and video game music, commented about the lovely production and songwriting for Taehyung's Singularity. It's also a shout-out to Kim Namjoon, the leader and one of the main lyricists of the band, who wrote the lyrics for Singularity.
Also, as is everything related to BTS V having a humanitarian touch, his fans donated to a charitable cause as part of the 500 days anniversary. Kim Taehyung always keeps inspiring his stans to do good - it is so heartwarming to see that.
The fanbase KTHCanada donated to a homeless shelter in the name of BTS V.
Kim Taehyung aka BTS V is genuinely a true idol. It feels so good to see a true artist in this age, who not only creates art himself and does good for humanity, but also inspires the same among his fans. Like the words he told to that one painter, we wish that May his days always shine bright!