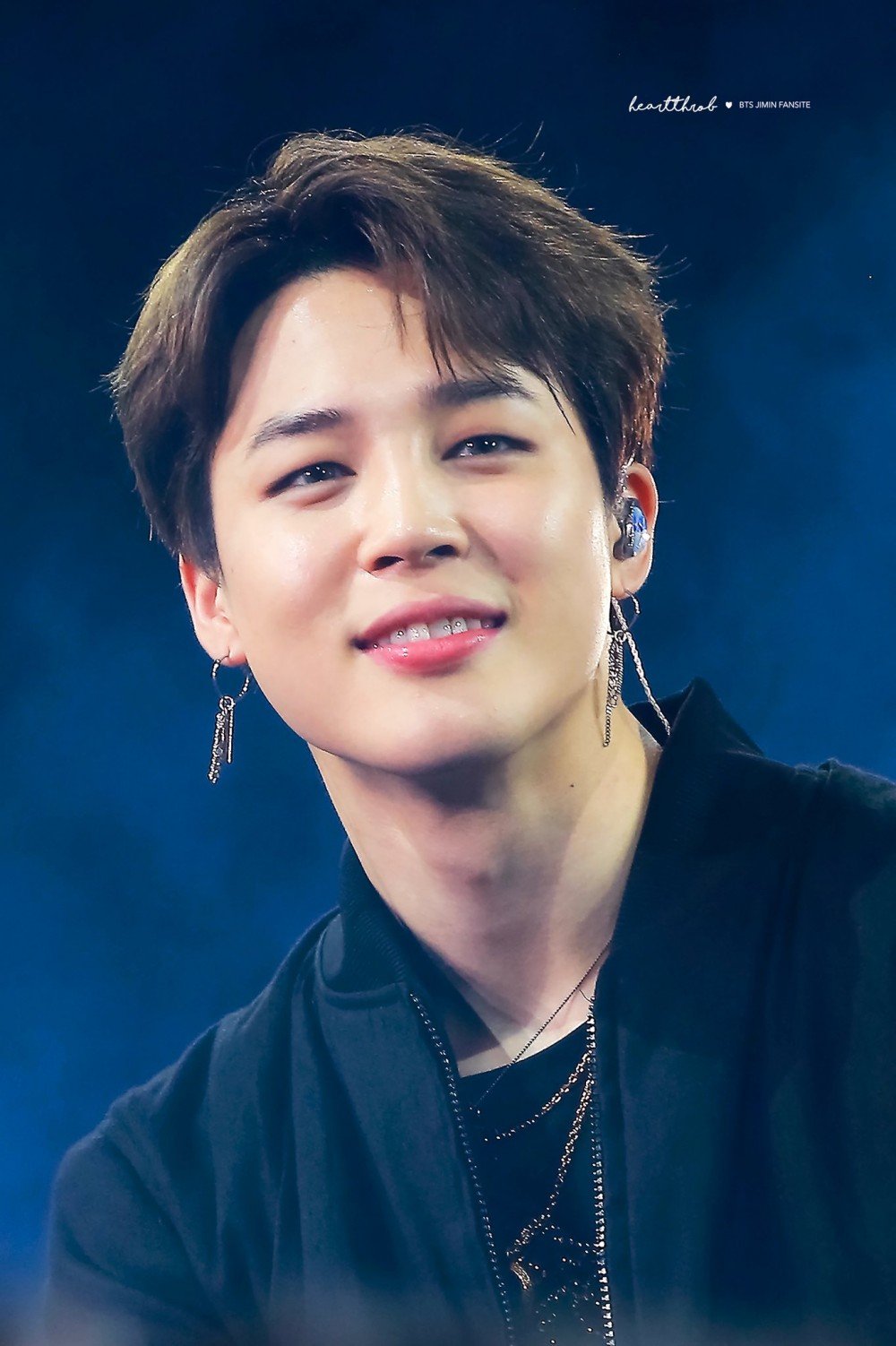 BTS Jimin was referred as "Prince of Geumjeong, Busan" when his hometown choose "Travel to Geumjeong with BTS Jimin" as their theme and was picked as the winner in the 22nd Busan International Travel Fair. Busan International Travel Fair was held back on September 5th until September 8th at Busan Exhibition & Convention Centre. This fair has up to 430 booths from 45 countries, tourism companies and the local government. The main purpose of this fair is solely to promote tourism and it was expected to draw more than one hundred thousand tourists.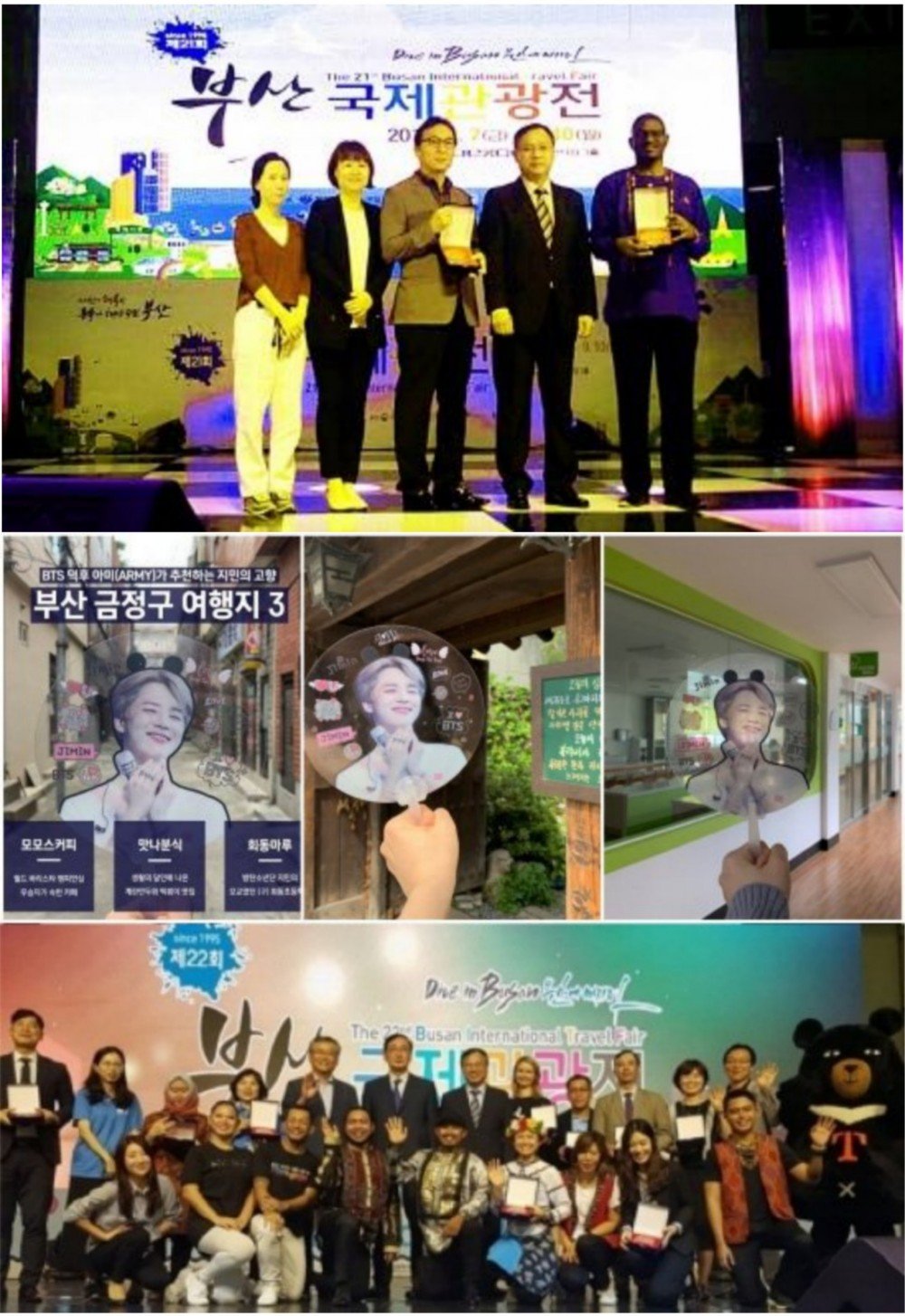 On August 2019, Future Korea reported that Geumjeong-gu, BTS Jimin's hometown will take part in the fair where they will operate a booth using "Travel to Geumjeong with BTS Jimin" as their theme. On September 11th, Insight Korea reported that Geumjeong-gu won the Best Booth Operation Award at the 22nd Busan International Travel Fair in BEXCO as their theme became a popular spot for tourists.
Congratulation to Geumjeong-gu for their win.

In addition to that, Busan Transportation Cooperation recently decided to extend the display of BTS Jimin's art museum in Busan Asiad Stadium due to the increase number of user. This 200 meter art museum was put up by BTS Jimin's fansite JAM JAM (@parkjamjam_kr) and BTS Jimin's fanbases, TEAM MOCHI (@TEAM_MOCHI_) and ALL FOR JIMIN KOREA (@ALLFORJIMIN_KR) as a celebration for BTS Jimin's 6th year anniversary. Previously Busan has rejected any commercial advertisement for Busan Asiad Main Stadium but accepted this for the first time due to BTS Jimin's outstanding achievements. The 200 meter art consist of BTS Jimin's journey and achievements since debut until now.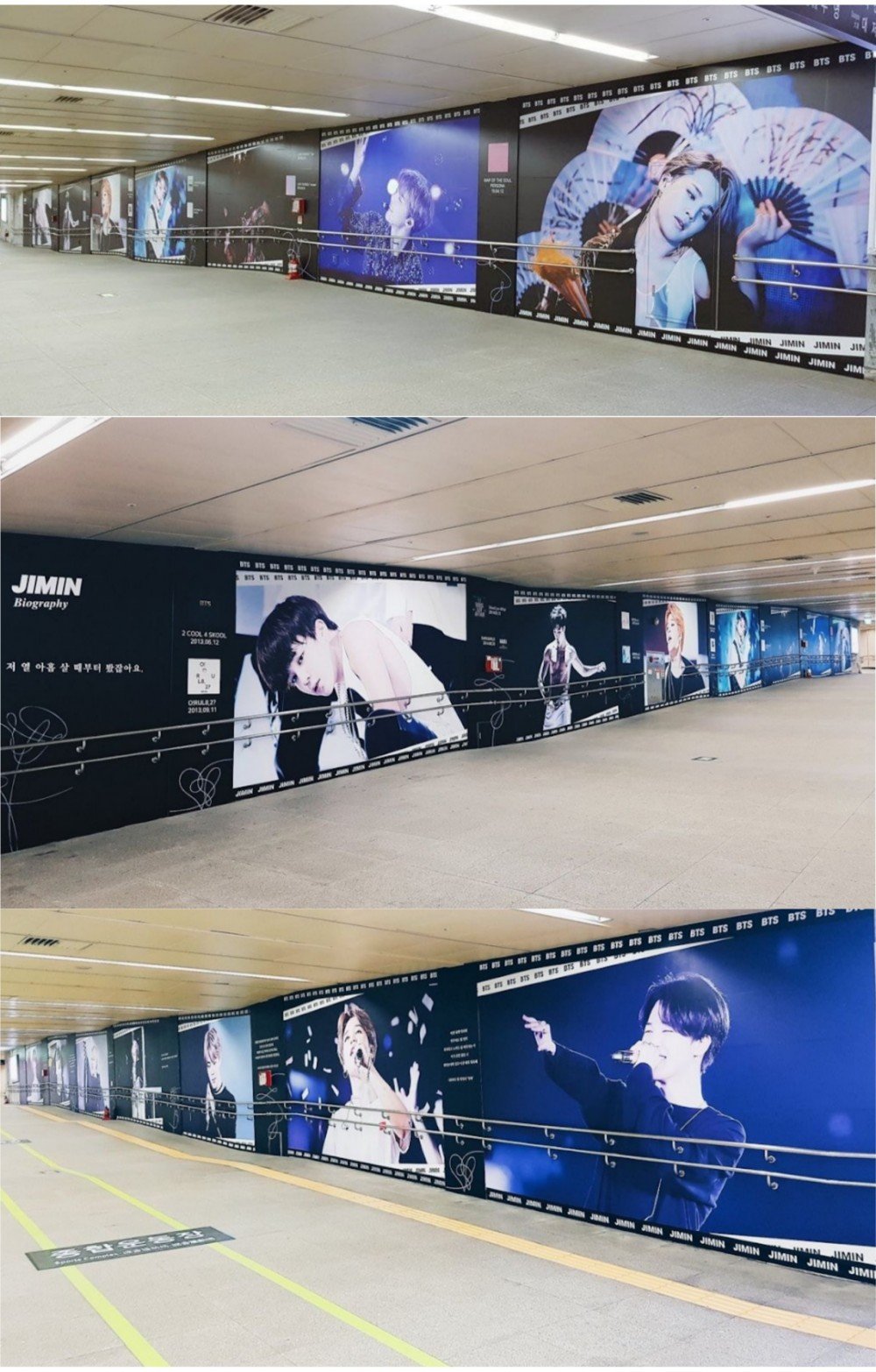 On July 2019, Korea Tourism Organization announced the top 10 BTS-related locations fans want to visit, based on a poll conducted with 22,272 fans from 137 countries. Kpop Herald reported Dadaepo Beach, Busan ranked second in the poll. Dadaepo Beach is where BTS Jimin walked around and filmed a vlog back in January 2016 while he was visiting friends and family back home.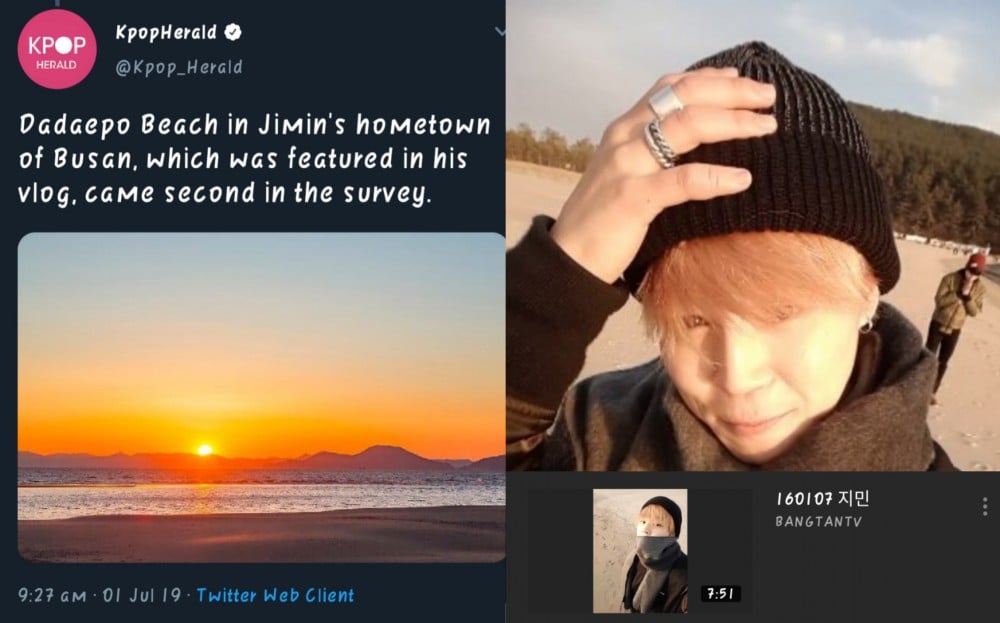 On June 2019, during BTS 5th Muster in Busan, Busan citizens was seen to expressed their love, support and how proud they are with BTS Jimin in an amazing way. Fans noticed several banners were put up to congratulate and support for BTS Jimin by Busan citizens.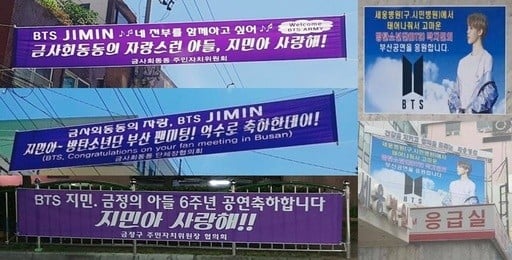 Translation (credit to @__Jim_in)
First banner
'Prince of Geumsahoedong-gong, BTS Jimin. Jimin-ah, congratulation on your BTS Busan Fanmeeting - Geumsahoedong-dong association of group leader.'
Second banner
'BTS Jimin, I want to be with you in everything. Proud son of Geumsahoedong-dong. We love you Jimin-ah'
Third banner
'BTS Jimin, son of Geumjeong, congratulation on your 6th anniversary concert. Jimin-ah, we love you!!'
Hospital banner
'We cheer for the Busan concert of BTS Jimin who thankfully born in Sewoong Hospital'
BTS Jimin's stage performance in BTS 5th Muster in Busan also drew worldwide attention with his amazing dancing skills and his outstanding and unique vocal especially in "HOME" and "Pied Piper".
BTS Jimin also trended worldwide with several keywords such as JIMIN, #BusanPrinceJimin, #부산의_왕자_지민, 부산의 왕자 (Busan Prince) trended real-time with 1.5M mentions in 41 countries. The audience chanted BTS Jimin's name continuously and gave an overwhelming cheers for him. It was also reported that BTS Jimin's 5th Muster and his "manggaetteok" merchandise sold out immediately before the fan-meeting begin.
BTS Jimin is indeed the pride of his hometown and it is no surprise to see him being referred as the Prince of Busan.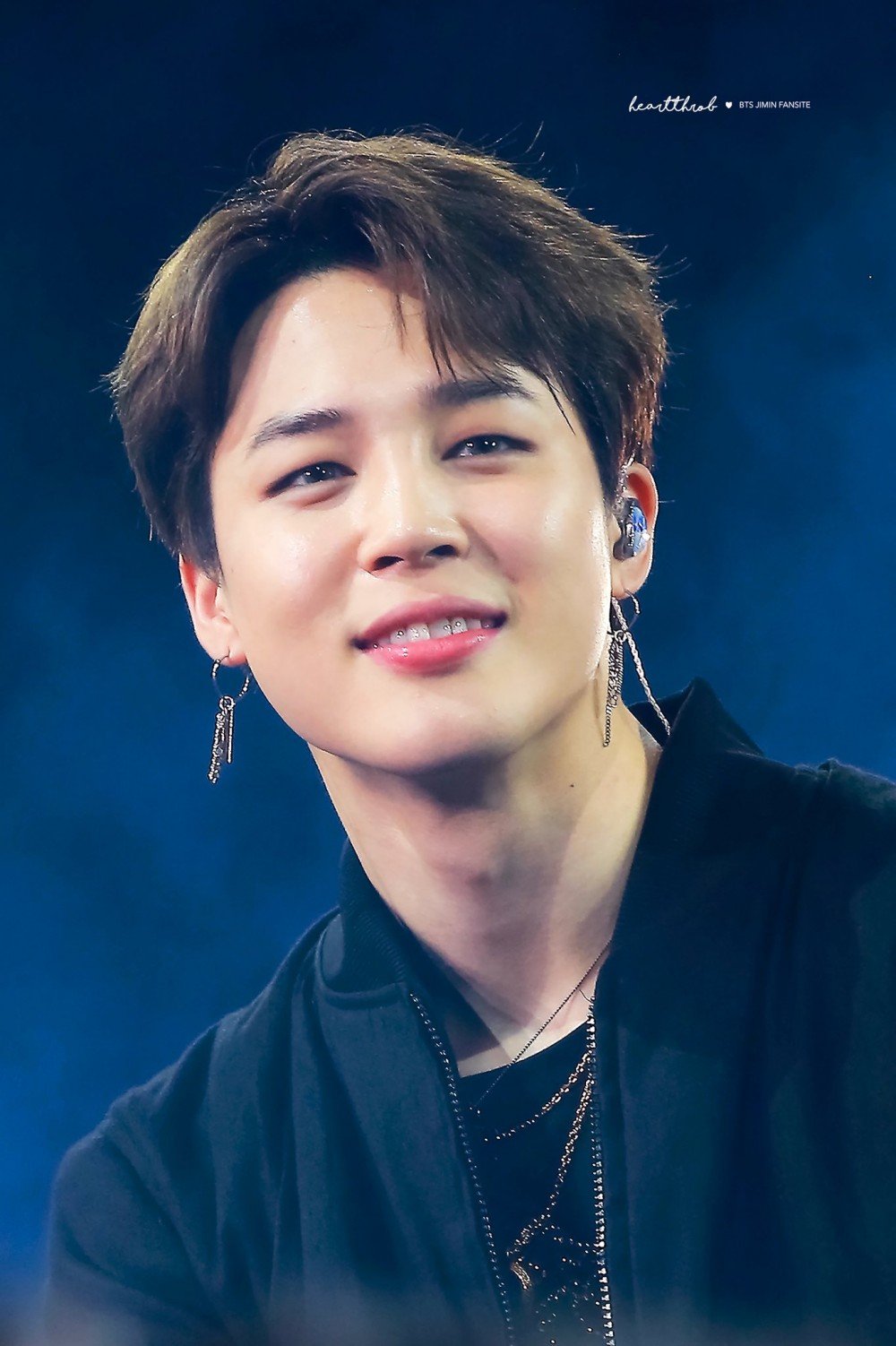 Source
http://www.futurekorea.co.kr/n...
http://www.insightkorea.co.kr/...
http://kpopherald.koreaherald....