South Korean President Moon Jae-in has wrapped up his four-day visit to the United States, also his first trip abroad since taking office. From North Korean tensions to trade, many important things were on the table. But one unexpected issue garnered a lot of attention.
The topic of "First Lady Kim Jung-sook makeup" quickly took the Korean online community by storm, after one woman living in the United States shared a story on the blog site, "MissyUSA."
"The mother of my child's friend is a makeup artist," the woman wrote. "And I learned that she will be doing First Lady Kim Jung-sook's makeup for three days."
According to this makeup artist, the woman wrote, the first lady had been doing her own makeup and hair all along, including the look she donned when she took off from the airport in South Korea.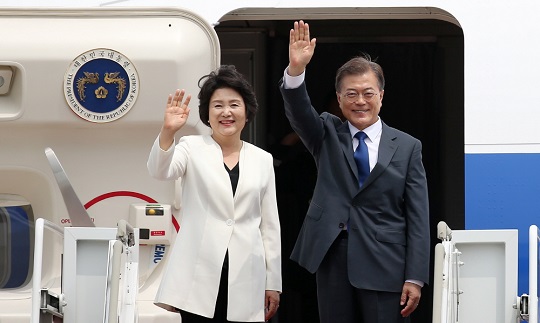 To the visibly nervous makeup artist, the first lady also calmed her down, saying that she liked the look and complimenting her endlessly.
The first lady allegedly also explained to the makeup artist that she had received a love call from a wedding shop, but she declined, saying it was too costly. The first lady had also initially insisted that she'd do her makeup and hair herself, but her aides had advised her against it, the woman wrote.
Netizens responded positively, with comments like, "her heart is elegant," and "she is the face of the nation, so she can spend some of the tax money on makeup."
The first lady has been nicknamed "Happy Mrs. Jung-sook" because of her bright and approachable personality. Seems the name couldn't be more fitting!