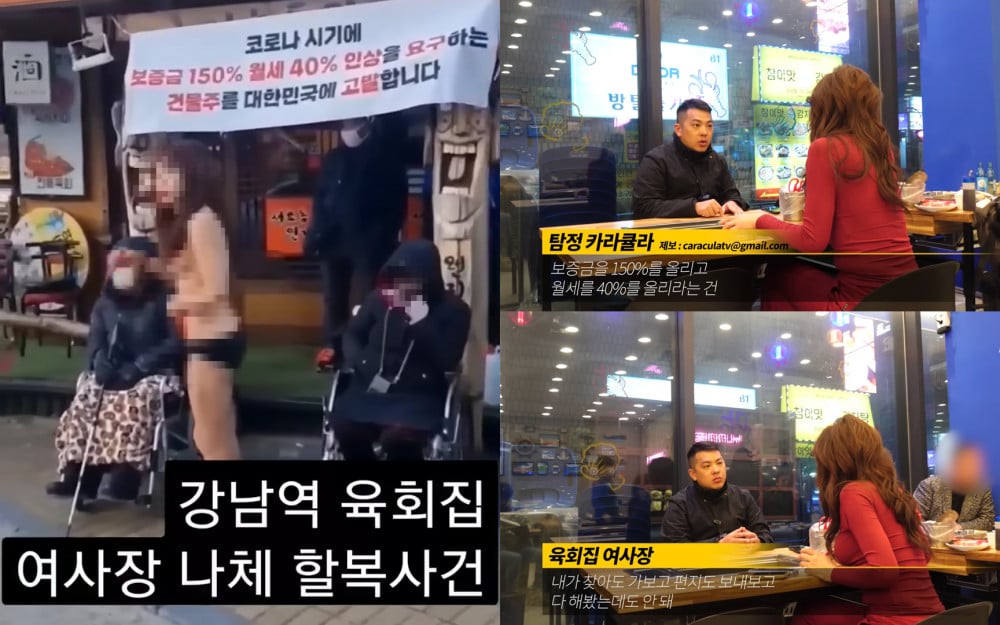 [C/W T/W Content Warning/Trigger Warning]
A woman who runs a restaurant in Gangnam staged a shocking protest by stripping naked and stabbing herself in response to the landlord's demand to raise the deposit and rent.
At the end of December 2022, a business owner caused a commotion by standing outside naked in front of her restaurant with a sashimi knife. She stood in front of her restaurant and had a banner that said, "The landlord is demanding a 150% deposit and a 40% monthly rent increase in Korea during the COVID-19 pandemic."
She shocked the public when she stabbed herself in the stomach to express her anger at that time. She yelled, "Take photos and post them. I'm going to *** up all the evil landlords! Tell them to come at me!" The woman was stopped when police intervened after receiving reports of the protest.
A few weeks after this shocking protest, the restaurant owner sat down with the YouTube channel CaraculaTV to explain why she had done such a thing.
The restaurant owner explained that, amidst the pandemic, when all restaurants are struggling to generate income, the landlord had demanded a 150% increase in the deposit and a 40% increase in the monthly rent.
She explained, "During COVID, the deposit was 60 million KRW (~48,504 USD), and the contract didn't even expire, but the landlord suddenly raised it to 150 million KRW (~121,261 USD), out of nowhere. And the rent was 6.8 million KRW (~5,497 USD) a month but was increased to 10 million KRW (~8,084 USD) a month."
The restaurant owner vented that she had owned other restaurants in the area but had to close all of them down for a loss because the landlord had increased the deposits and rents in the same way. Fed up, she decided to fight against the rent increase this time, but the landlord filed an eviction order against her. That's why she decided to hold a protest in front of her store.