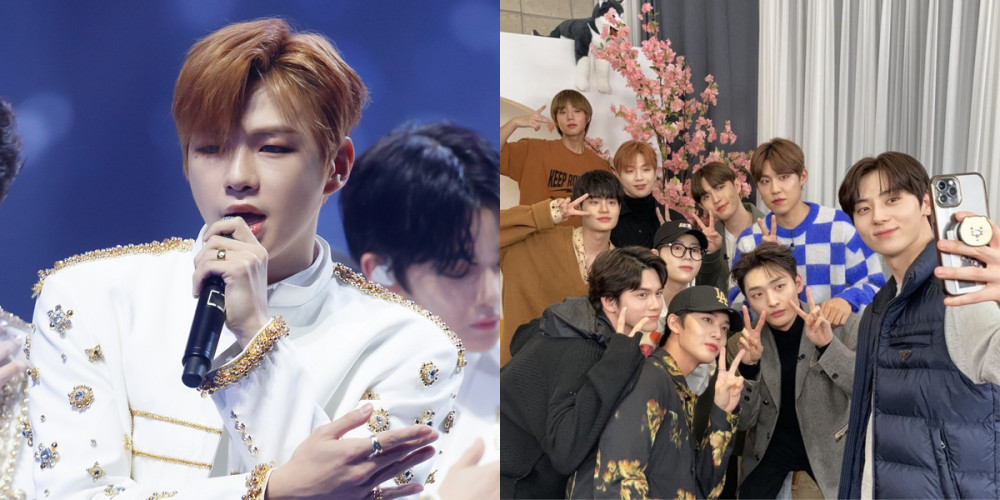 Netizens have struck up a debate about Kang Daniel's "tone", after the idol's recent series of fan messaging platform responses to fans began garnering attention online.
Many netizens believe that in his recent responses, Kang Daniel chose to take a jab at some fans who criticized him for an incident involving Wanna One at the '2021 MAMA' earlier this month.
Previously, a day prior to the '2021 MAMA', it was reported that Wanna One had to abruptly halt the group's pre-recording after a staff member affiliated with the group tested positive for COVID-19. Ultimately, in response to the sudden situation, all Wanna One members underwent a rapid COVID-19 test, and the group was forced to cancel their live appearance at the '2021 MAMA'. Only the group's pre-recorded performances were ultimately aired, and fans who waited outside in the cold to attend the live ceremony to see Wanna One's reunion were left disappointed.
Some time after the incident, a 'Dispatch' article reported that it was a staff member from Kang Daniel's agency, Konnect Entertainment, who had tested positive for COVID-19 that day. 'Dispatch' also went on to accuse staff members of Konnect Entertainment for failing to wait until they received their PCR test results to proceed with the artist's schedules. According to 'Dispatch', the Konnect Entertainment staff member in question underwent both a self-test at home and a PCR test. Initially, the self-test result was "negative", and so the the staff member attended Kang Daniel's schedule as planned, despite the fact that their PCR test result was not delivered.
As a result, some fans criticized Kang Daniel and his agency for ultimately cutting Wanna One's reunion short.

Then, earlier this week, while answering fans' questions as to whether or not he had plans to go see the new 'Spider-Man' movie in theaters, Kang Daniel stated,
"I can't go to the movie theater.
First, there's COVID-19, and there are too many people, and it's hard to get tickets.
And if I tried to go out and for some reason, someone tests positive for COVID-19, then I will get singled out and attacked again.
It's like I'm that one kid who has been labeled by the teacher as the 'troublemaker'.
Even though the other kids near me talked too, the teacher only scolds me.
I'm not necessarily saying that I was the only one who got singled out regarding the COVID incident, but...
Why is everyone being like this... Apparently, I'm always the one at fault, all the time.
My whole point isn't that I'm the one who gets attacked all the time.
My point is that I need to be extra careful, to the point that I avoid going to the movies altogether.
If you're going to take every single thing I say and call me out on it, saying that I'm being careless, then I recommend that you stop using this platform.
Okay just blocked [some fans]."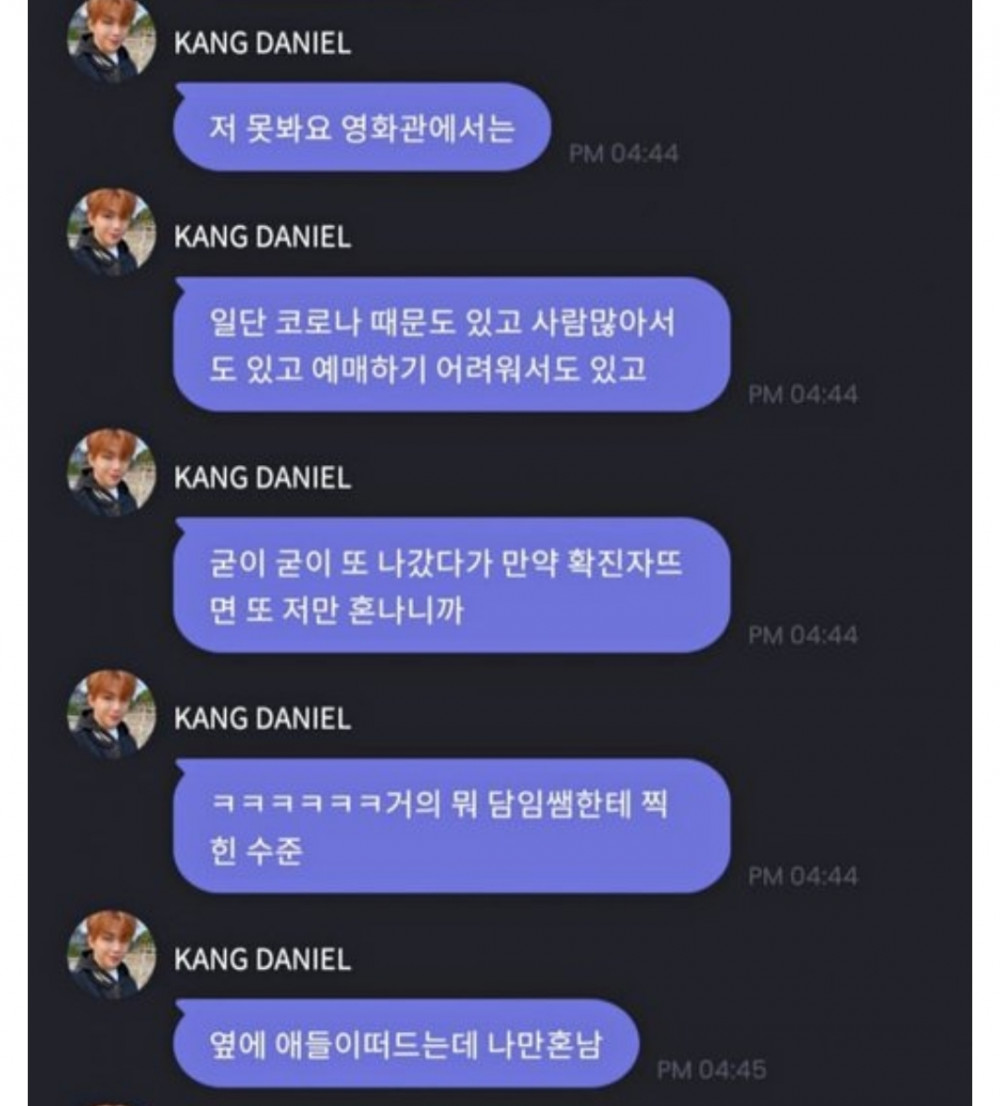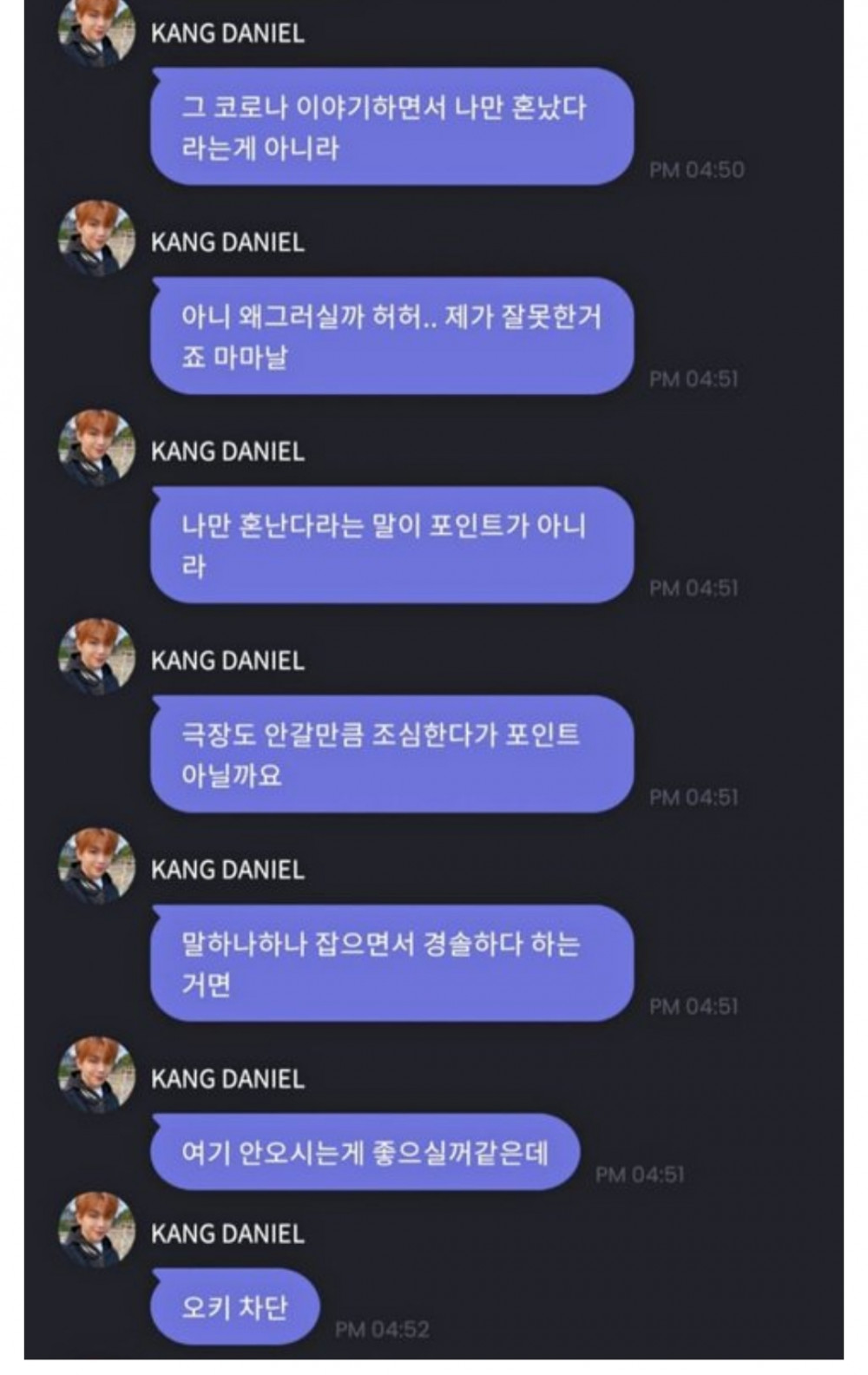 When Kang Daniel's latest comments began spreading via various online communities, some netizens said,
"Why is he trying to pick a fight? It clearly seems like he is trying to say, I want to go to the movies but because you guys b****ed at me last time, now I can't go."

"Even if he didn't necessarily mean to be rude or blunt, he should know that he is using a public platform and a lot of people will see his comments."
"Okay if you're texting your friend, that's fine. But aren't you texting your fans? Is it really necessary to tell your fans your own, personal thoughts so bluntly?"
"It's true that your agency caused a lot of damages for the rest of the Wanna One members. Why would you put it like that?"
"I think this time, you really are being rude."
"So you're the only one being singled out and attacked, huh? But you're the CEO of that company..."
"He should have ended it at, 'I can't go to the movies because of COVID'."
Meanwhile, others felt,
"Once again, those antis are paying money just to find something to get angry about..."
"This is why being a celebrity is so stressful. Everything you say gets twisted."
"If he's on really friendly terms with his fans, sure he can talk to them about touchy topics. I don't see why it concerns anyone else."
"Idols are humans too, sometimes they need to vent. Stop trying to make idols apologize for things they didn't do."
"It's really not anyone's fault. It's COVID."
And more. What do you think of the ongoing debate?