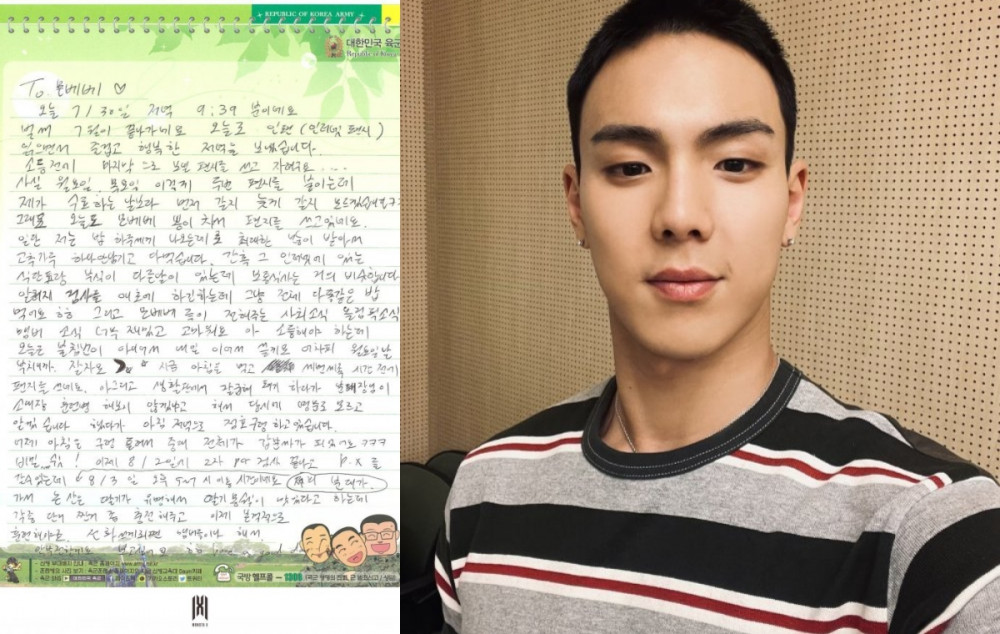 Shownu has written his first handwritten letter since starting his mandatory military service!

On August 8 KST, Starship Entertainment released a handwritten letter Shownu wrote recently for his fans. The idol wrote the letter over two days on July 30 and 31. It reads as follows:

"To Monbebe [MONSTA X's fanclub],

Today is 7/30 at 9:39 PM.
July is already over. Today, like usual, I had an enjoyable and happy evening while reading internet letters. To wrap up [the evening], I'm going to write the letter I'm going to send before I turn off the lights and go to bed...

To be honest, I sent letters two times on Monday and Thursday, but I am not sure if they will be released before or after the day that I complete military training. Either way, I'm full of Monbebe pride, so I'm writing a letter today as well.

First, with three meals a day, I try to eat as much as I can without leaving a single grain of red chili powder. Sometimes there are days when that menu on the Internet and the side dishes are different, but the meals are almost always the same.

We start off by taking allergy tests, but we still all eat the same thing, haha. Also, I am grateful for and really enjoy the member news, Olympics news, and society news that Monbebe relays to me. Ah, I have to turn off the lights, but today is not night watch, so I'll continue to write this tomorrow. It's being sent on Monday either way.

Sleep well.

Right now, I'm eating breakfast and writing this letter before it's time to wash up. Ah, also, I was doing push-ups in the common area, and the squadron asked me if I could be a platoon leader. At that time, I didn't know what was going on, so I said yes, but I'm asking for a roll call in the morning and evening. Yesterday, I got the verbal order wrong, so the atmosphere of the whole squadron suddenly got really awkward.

This is a secret, shh! Once I finish my second round of examinations on August 2, I can go to the post exchange [military convenience store], and the time the army can use it is on August 3 from 5 - 7 PM. As Nonsan's strawberries are famous, they say that the strawberry Mongswel [Chocopie-like cake] is delicious, so I'm going charge myself up with all kinds of sweet and salty things then I have to train in full force.

When I can use the phone, I'll be sure to say hello to the other members. I miss you. Have a good day!"

Meanwhile, Shownu enlisted on July 22, and after basic training, he will transition to work in the social service.