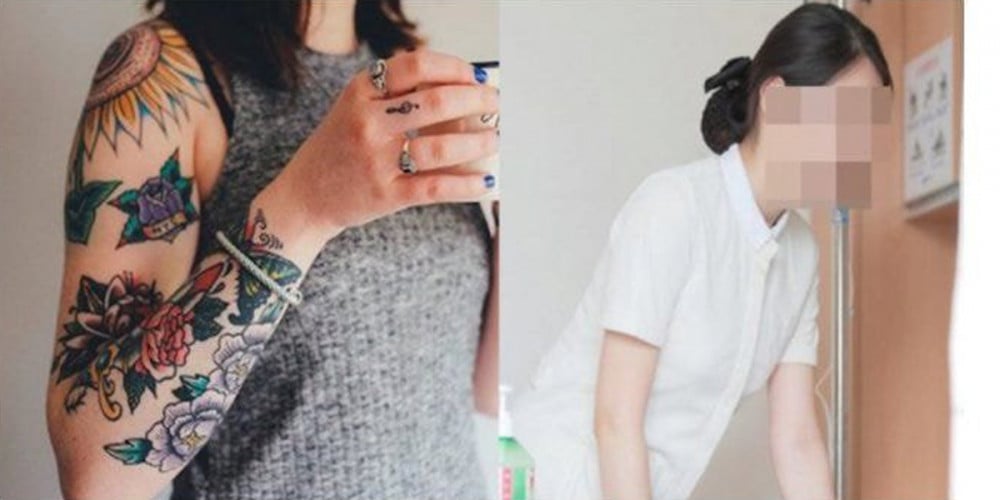 One online community post in a group for nursing majors has sparked a heated debate among Korean netizens.
In this post, a nursing major student wrote:
"'Am I the only one who feels uncomfortable seeing a nurse with tattoos? I was getting required vaccinations for my children, and I saw that the nurse had a flower tattoo on her arm. To be honest, it was not pleasant to look at.'

Hello, I am a fourth year nursing student, about to become an RN soon. Ever since I enrolled in nursing, I have had pride in the profession or a nurse and try to stay attuned to all types of news and information regarding the nursing industry. The reason that I am writing this today is because I saw the above comments made anonymously on one regional community.

As soon as I saw the post above, I became curious about people's perspectives on this issue. While the majority of people under this post have responded, 'A nurse is an ordinary person so having a tattoo is normal', 'It's not like a tattoo is contagious so why are they being like that', and such, but from time to time, there are certainly others who say, 'I find it uncomfortable too', 'Should't they cover those up', and more. I decided to post this today to ask everyone's opinions, especially RNs and SNs who are current and future healthcare professionals."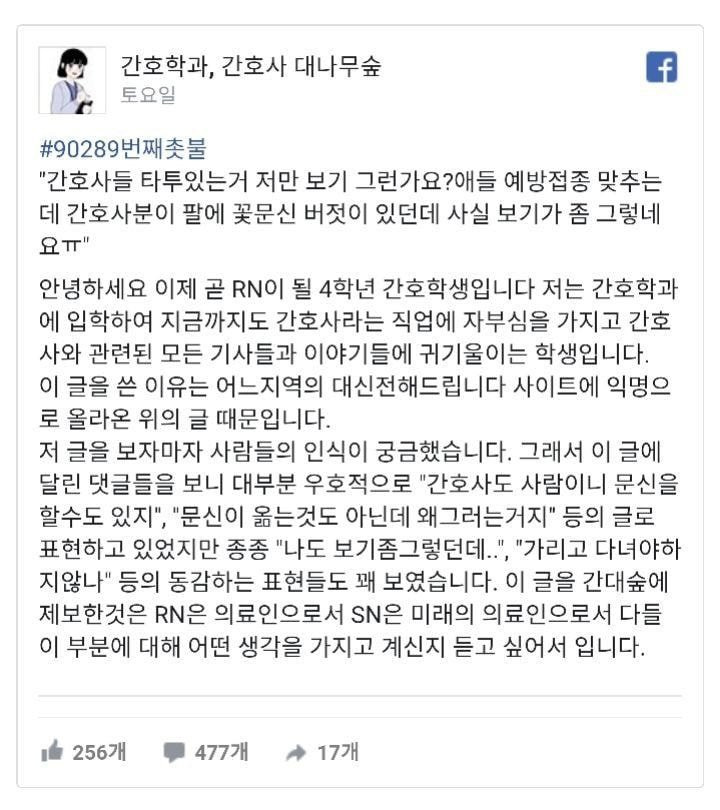 Sure enough, the responses on online communities were divided. There were some who commented,
"What the heck does a tattoo have to do with how well they do their job?"
"These days, everyone gets a tattoo or two, including nurses and doctors. But the problem is that nobody seems to be saying anything about doctors getting tattoos, only nurses!"
"It's just a drawing on the body, it's harmless!"
"I literally don't care. What is the problem here."
"One time I went to a clinic and the nurse that I had just gave off a really scary impression for some reason. But then it turned out, she was super nice and when she gave me a shot, it didn't hurt at all. But while she gave me the shot, I saw that she had a huge tattoo on the inside of her arm, but still she the way she treated me so nice, it left a big impression on me about external appearances."

"Who cares about tattoos? Just make it so that the shots don't hurt TT."
Meanwhile, those of the opposing opinion felt,
"Regardless of profession, if you are in the service industry, tattoos are improper."
"No matter who you are, I just can't stand seeing someone with their entire arm black with tattoos."
"When people have too many tattoos, it makes them seem like a person who does not respect certain societal standards."
"Are you sure it's not a violation of healthcare regulations?"
"The age group who visits hospitals the most is the elderly. And for the elderly, it really makes them uncomfortable because of the standards of their time. Sure, when times change, rules can change but right now, it's not there yet."
"It's improper for healthcare professionals, public school teachers, and public service workers to have them showing outright."
"If you're in the service industry, then you have to be mindful of the impression that you give others."
"Technically, tattoos are still illegal in Korea."