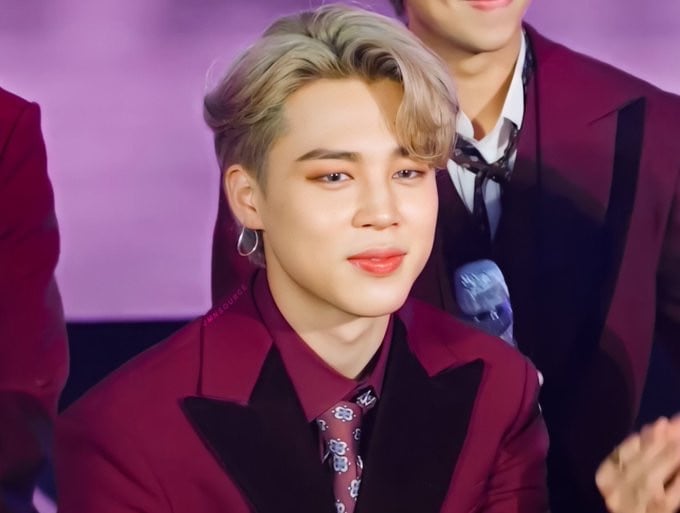 On October 17 (Korea Time), Korea Enterprise Reputation Institute announced the brand reputation ranking of 653 boy group members. Officially, BTS Jimin has maintained his No. 1 rank and now holds the longest record, which is 22 consecutive months, or 24 months overall.
Jimin is the first and only idol to sustain such a record. He is undeniably consistently proving his top-tier brand power and global popularity. Thus, Jimin has earned the nickname of "Brand King."
The brand reputation index is based on an analysis of big data that carefully studies and considers the consumers' online habits that significantly impact brand consumption. The gathered data are analyzed to measure the positive and negative assessment of the boy group member's individual brand, media interest, consumer's interest, and communication volume.
The Korea Research Institute for Corporate Review extracted 113,571,467 brand big data from 653 individual members of boy groups for the period covering September 16 to October 16. According to Director Koo Chang-hwan of Korea Enterprise Reputation Institute, Jimin topped the list with a positive maintenance ratio of 68.50%.
Jimin brand analysis resulted high with "Congratulations, thankful and breakthrough" in link analysis and with "Birthday, Billboard and Dynamite" in keyword analysis. These high results are due to Jimin's recent grand birthday celebration wherein he dominated the worldwide trends in different online platforms. It can also have resulted from his unforgettable debut stage of solo song "Filter" during BTS's MOTS ON:E online concert, which has received enormous praise from fans and non-fans, both in Korea and abroad.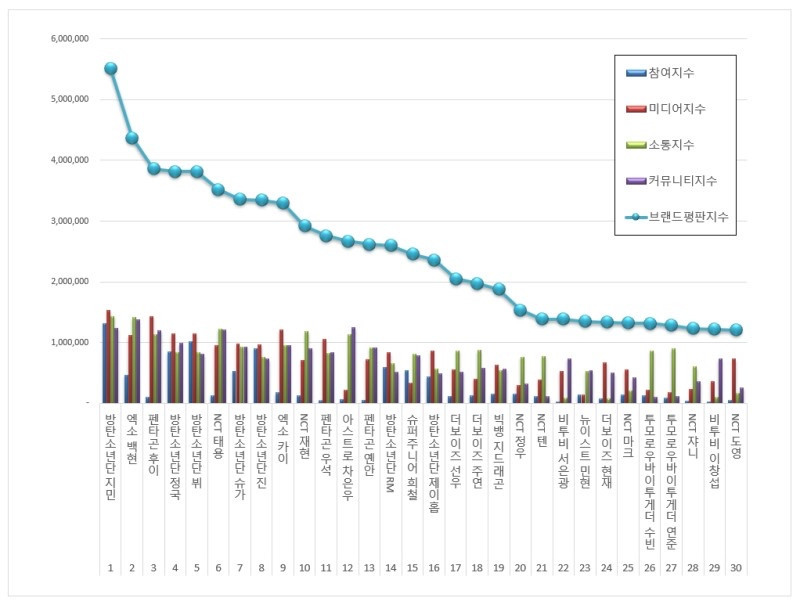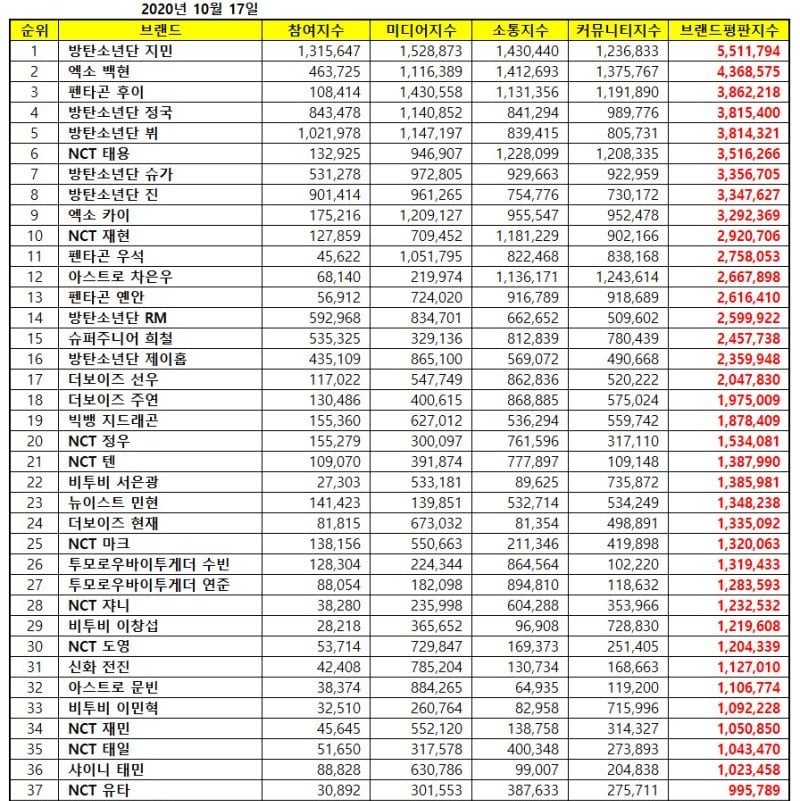 Further, to show their love and support for their nation's pride, South Korean netizens immediately trended three hashtags for Jimin, such as #우리지민또1위했네 (Our Jimin won #1 again), #JIMIN22개월연속브평1위 (Jimin #1 for 22 consecutive monthly reviews) and #지민브평10월1위축하해 (Congratulations Jimin for #1 in the October review).
The Brand King adds more magnificent achievements under his name. BTS Park Jimin is the only idol to top the boy group member individual brand reputation for 22 consecutive months and for 2 years overall, the only idol that been no. 1 in Gallup for 2 years in a row, no. 1 overall brand reputation (male and female combined) for 15 months. He is also the only idol with 3 national honors and the only third-generation male idol in the prestigious Business of Fashion. Likewise, Jimin is the only idol who has the most streamed solo song of 2020, the biggest debut on Spotify, highest streams on SoundCloud, Spotify, Youtube Audio, and Gaon.